An Update from the GALA Team
It's a bit late to call this a midyear check-in, but in the spirit of transparency we still thought it was a grand time for an update from the GALA team. We have the pleasure of engaging with many of you through SIG meetings, GALA Academy sessions, webinars, emails, and the occasional phone call, but we don't often cover the business details of the association when we connect. Let's get started where it matters most.
GALA's Value
The global language industry plays a critical role in business and communication. It makes significant contributions to world economies and improves the lives of users everywhere. Yet, it faces specific existential threats requiring adaptation and evolution. You have all certainly experienced this firsthand.
GALA helps organizations adapt and evolve by delivering programs that educate and inform. We create a steady stream of future-oriented and human-centric content. We build collaborative communities committed to advancing professionalism. And we work to raise the profile of the global language industry. In short, GALA tries to ensure that our industry remains relevant and robust now, and in the future.
Whether you want to train your staff or promote your company, a GALA membership enables it. Joining GALA as a member organization means everyone gets access to learning opportunities (there is no limit on headcount). It means your organization can leverage GALA's significant global audience (31K LinkedIn followers, 7.5K monthly website visitors, nearly 16K email subscribers) with free visibility and promotional opportunities. And it means that you can connect with peers around the globe for knowledge-sharing and networking.
Membership in GALA – Dues Tiers
As a membership organization (officially called a trade association), GALA relies on member dues for nearly half its annual revenues. Our annual conference, sponsorships, educational programs like GALA Academy, and paid advertising comprise the rest. This is typical for trade associations.
In January 2023 we implemented a new tiered dues model based on a company's self-reported revenues or, in the case of client-side members, departmental budget. The purpose behind the change was to make membership more equitable. It stands to reason that a company earning a few hundred million in revenues can (and should) pay more than a company with less than one million. And while revenues and headcount are not precisely correlated, it was the model that made the most sense to GALA's leadership and membership – and we considered many. If you'd like a refresher, please review my blog and video from last year.
Halfway through the year and six months into our new dues model, we have some facts and figures (and concerns) to share.
Mid-year Membership Figures
After several years of growing membership numbers, the total number of industry member organizations has been steadily dropping since 2019. The number of paying members (which excludes academic institutions) has declined 14%. Proportionally, LSC members have declined 17%, while client-side members have had a marginal increase of 3% since 2019. Rest assured, this does not constitute a threat to GALA's existence, but it is a concerning trend that we would like to see reversed.
Furthermore, we are seeing what appears to be significant underreporting of annual revenues, demonstrated by our Tier 1 renewal rate hovering at 231%. For those of you who don't love numbers, it means that members from other Tiers are choosing to renew at the Tier 1 rate (i.e., the lowest rate).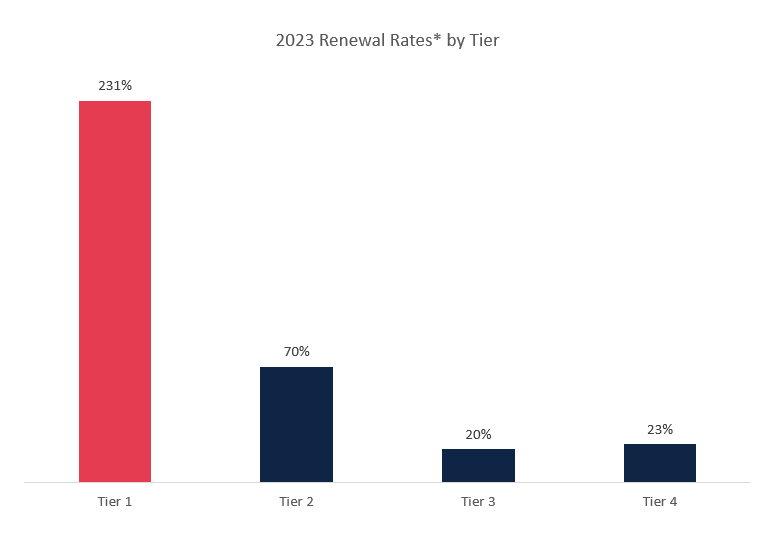 (*) A standard maximum would be 100% per tier.
As you can see, it looks like we have more member education to do on the new dues structure. One reason for this mid-year check-in is to appeal to members to learn and understand our new approach to dues and to select the appropriate tier when renewing or joining.
Mid-year Financial Data
Despite flagging membership numbers, GALA's financial position is strong and stable. Thanks to a successful annual conference, and the support of many sponsors and exhibitors, our revenues are comparable to pre-pandemic levels. Projections for Q4 show a modest net profit which will be used to rebuild reserves that were depleted during the pandemic.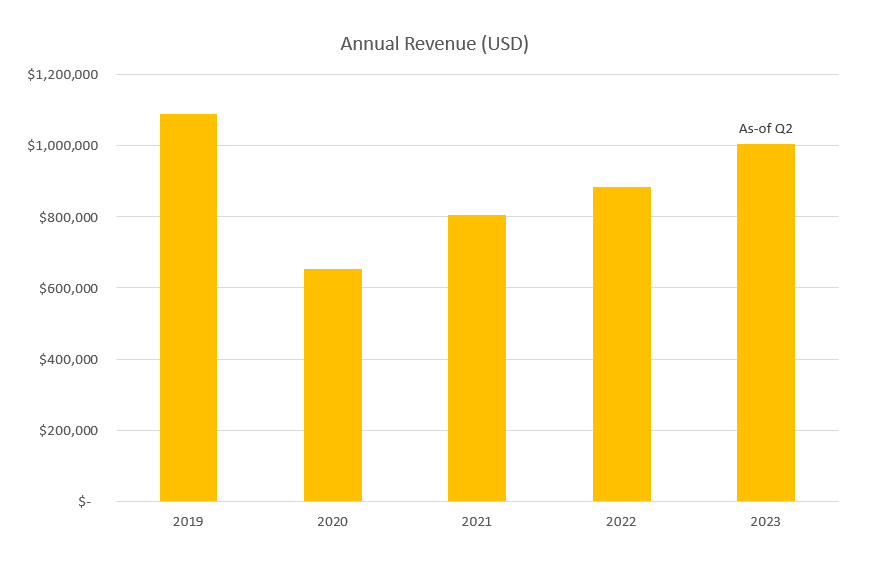 Looking Ahead – GALA's Strategic Priorities
Last year, the GALA board developed new strategic priorities for the association, focusing on 2023-2025. It involved a thorough look at trends, threats, and opportunities and consideration of what our members most need from their association. You can review the priorities here.
These strategic priorities are the GALA team's guiding light – all our programs and content must align with the priorities, and they are the standard against which all activities are measured. We welcome your input and comments, and we hope and anticipate that you will see the relevance and timeliness of these priorities.
Summary
GALA is considered a valuable resource by hundreds of companies and thousands of individuals around the globe. We are respected as an unbiased source of current information and education, a platform for professional growth and development, and maybe most importantly, a thriving community of people who care deeply about their profession.
We're grateful for your membership and for your engagement. And if you think you should be engaging more, you're right ! Please check out our event calendar and visit the Knowledge Center to find interesting content. Consider joining a SIG that interests you. There is so much you can do, learn, and share through GALA. We look forward to connecting with you for the rest of 2023 and beyond.