GALA 2023 Keynotes
Opening Keynote
Learn to Decide and Conquer: Decision Making and Removing Biases
David Siegel
CEO, Meetup
From the sunk cost fallacy to recency bias, there are certain ways we are prone to think that lead to irrational and flawed decisions. David Siegel, the author of Decide & Conquer and Meetup CEO, explains how you can identify ten of the most common reasoning pitfalls and make better decisions now.
Meet the Keynote Speaker
David Siegel is the CEO of Meetup, the largest platform for finding and building local community. He has over 20 years of experience as a technology and digital media executive leading organizations through innovative product development, rapid revenue growth, and digital traffic acceleration. Prior to joining Meetup, David was CEO of Investopedia and before that, President of Seeking Alpha. David holds a BA in Philosophy, Politics & Economics, and an MBA from the University of Pennsylvania. He is an adjunct professor at Columbia University where he teaches strategic planning and entrepreneurship. He is host of the podcast, Keep Connected, a top 2% ranked global podcast that is dedicated to the power of community, and author of Decide & Conquer, a March 2022 Porchlight bestselling leadership book.
---
Closing Keynote
We Believe in Humans  
Marco Trombetti
CEO, Translated
In his closing keynote, Marco will explore the central idea of his work: the storied relationship between humans and machines, including the relationships we will have in the future.
According to Marco, the role of humans in this relationship was—and always will be—fundamental. Imagine a likely, not-too-distant future, in which humanity reaches singularity. Paradoxically, the challenge we will face is not the one posed by the AI revolution itself. Rather, our challenges relate to the opportunities presented by that revolution. Given his belief that the localization industry is at the center of it all, Marco will encourage us to seize the moment.
Meet the Keynote Speaker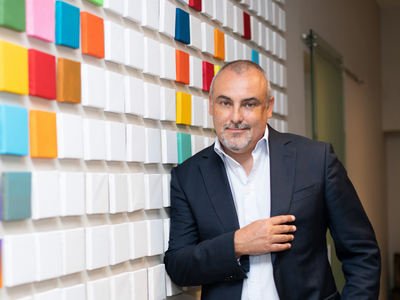 Marco Trombetti is a 46 year old computer scientist, serial entrepreneur, and investor.
In 1999, together with Isabelle Andrieu, he founded Translated to solve one of humanity's greatest challenges: to allow everyone to understand and be understood in their own language. Translated pioneered the use of artificial intelligence to support professional translators and is one of the leading translation companies today, with over 270,000 customers including Google, AirBnb and Uber.
With the profits from these and other ventures, Marco co-founded Pi Campus, a venture capital firm investing in early-stage technology startups, mostly in the AI field, with 49 investments in its portfolio ranging from Europe to the United States. In 2017 Pi Campus launched Pi School, an innovative educational reality to create a new class of AI specialists. Pi School offers personalized coaching from AI world-renowned authorities to talented engineers.
Marco is also the author The New Prince – Why and How to Startup, a collection of essays illustrating the counterintuitive reasons and strategies that have led the new generations of entrepreneurs to success. It offers a new and straight-to-the-point perspective on why and how to start an innovative company, without trying to please readers with half-truths.