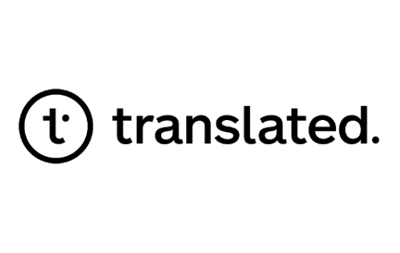 TRANSLATED.
Headquarters
GALA Member
We have been offering human translation services for the last 20 years to our 131,615 clients, in 150 languages and 40 areas of expertise.
We use a powerful combination of human creativity and machine intelligence to craft consistent quality translations at speed.
For the last 5 years we have been growing at a steady rate, increasing our production from an average of 180,000 translations delivered in 2015, to 360,000 in 2018.
Translated has been rewarded on several occasions, including the TAUS Innovation Contest. In 2015, the European Commission awarded our MateCat, and therefore Translated, for one of best AI research projects of the previous 7 years. In 2017, Financial Times indicated us as one of Europe's fastest-growing companies.
Translated contributes to the language industry by making most of its technology open source and accessible to everyone via TranslatedLABS.
Multimedia Localization
Tools or Tech Development
Translation and Localization
Financial Services
Gaming
Legal
Life Sciences
Media
Professional Services
Public Sector
Technology
Africa
Americas
Asia-Pacific
Central and Eastern Europe
Middle East
Western Europe