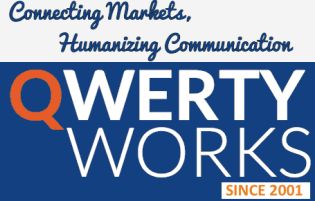 QwertyWorks
Headquarters
GALA Member
In a world that gets even smaller and more interconnected, all kinds of products and services enter new markets every day, making it a fundamental challenge for producers and consumers to understand and be understood. Better communication means better access to more choices, thus better lives.
In a world that speaks around 6,500 languages, QwertyWorks believes that no machine can ever connect people better than human linguists who can capture original content, context and tone and convey it into the ever-evolving local language.
In 2001, we filled the need to help develop the industry of localization in the Philippines by establishing TOUCHBASE, our team that specializes in Philippine languages. Years of Continuous Improvement enabled us to sustain the "Quality in Quantity" balance and pursue excellence in every project we handle.
Today, QwertyWorks is composed of both Touchbase and TEAMGLOCAL, our international language department—allowing us to connect producers with consumers speaking over 60 languages in more than 30 markets around the globe.
Our track record spans diverse industries including Information Technology, Law, Health, Marketing/Advertising, and Entertainment having rendered not just translation but also quality assurance, transcription, subtitling, bug fixing, user acceptance testing, and market research.
Tools or Tech Development
Multimedia Localization
Consulting
Translation and Localization
Staffing
Financial Services
Professional Services
Gaming
Public Sector
Technology
Legal
Life Sciences
Africa
Americas
Middle East
Asia-Pacific
Western Europe
Central and Eastern Europe