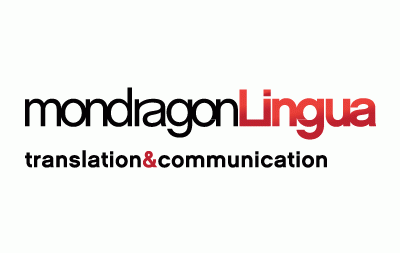 Mondragon Lingua, S.Coop.
Headquarters
GALA Member
The MondragonLingua Group is a leading language services company in Spain. It is part of the MONDRAGON Corporation, a unique industrial corporation with a cooperative organizational system that employs more than 83,000 people and has 103 industrial plants and offices worldwide. MONDRAGON Corporation is the seventh largest business group in Spain.
MondragonLingua has two different business operations:
1. Language Training
2. Translation & Communication
As for the Translation & Communication business, we constantly seek to differentiate ourselves from our competitors by offering enhanced quality of service, based on the following pillars:
A team that is highly specialized, not only in the industry itself but also in the various components of its value chain: project management, translation, proofreading, linguistic engineering, terminology and computational linguistics.
The management of processes designed and implemented according to the guidelines of ISO 9001 and UNE-EN 15038 standards (the latter sector-specific), which are constantly being reviewed.
The continual incorporation of the latest industry-specific technological advances to provide the best quality-price ratio.
A client-focused approach that is clearly manifested in our relationships and dealings with our customer base, in our deadline management and in our utmost endeavor to fulfill or clients' expectations, helping them to achieve their goals.
We specialize in highly demanding sectors, such as international organizations, industry, automotive industry, law, economics and finance, medicine and pharmaceuticals, renewable energies and information technology.
In 2011, we acquired Comunicacion Multilingue, S.L., a Madrid-based translation company with over 16 years' experience in the industry and a firm commitment to quality in the translation services management process, its relationships with its clients and the incorporation of new technologies.
As a result of this acquisition, we now have offices in Mondragon, Madrid and Washington D.C. (USA), and our size and potential now make us one of the top five translation companies in Spain.
Translation and Localization
Tools or Tech Development
Multimedia Localization
Central and Eastern Europe
Africa
Americas
Asia-Pacific
Western Europe
Middle East