Win & Winnow Language Services won a WEPs Argentina Award 2021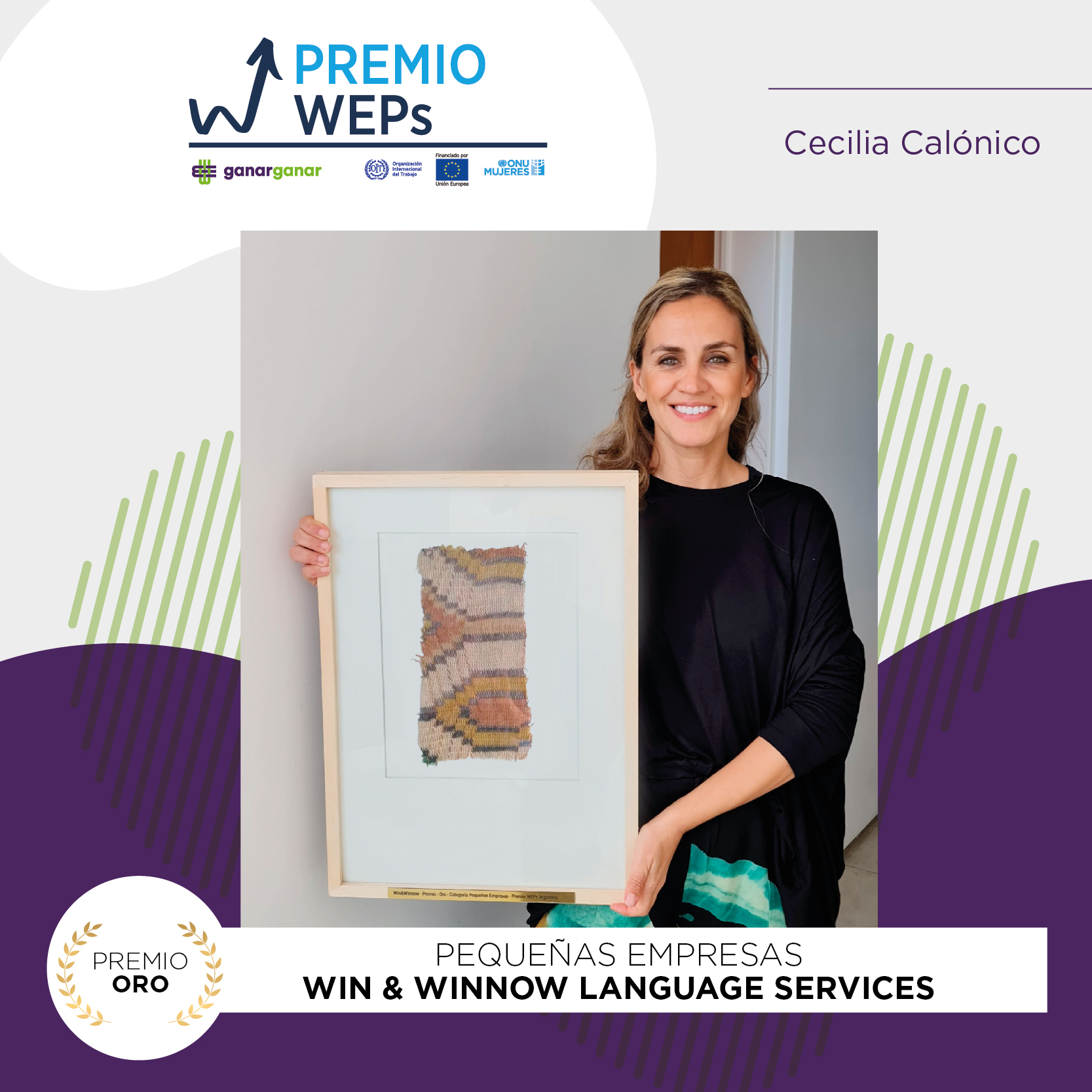 The "Win-Win: Gender Equality means Good Business" Program, implemented by UN Women, the International Labour Organization (ILO), and the European Union announced the winning companies of the second edition of the WEPs Argentina "Empresas por ellas" (Companies by women) Award in a virtual ceremony in which companies, the public sector, businesswomen, entrepreneurs, and the general public participated. Win & Winnow Language Services was granted the Gold WEPs Award in the Small Business category.
"Small businesses are engines of job creation. In Latin America, it is estimated that they generate 47% of employment for 127 million people. We hope that the practices of the award-winning companies will inspire SMEs in the Americas to generate more and better decent work," stated Yukiko Arai, ILO Director in Argentina.
Supplier diversity and women's empowerment
Win & Winnow Language Services is certified as a Women-Owned Business by Women's Business Enterprise National Council (WBENC) and WEConnect International. Women's economic empowerment both personally and professionally is among the goals of Win & Winnow Language Services. Investing in women's economic empowerment is an opportunity to promote the sustainable development of local communities and generate long-term social and economic benefits for all people and their communities.
Some of the axes of the action plan towards gender equality guided by the Women's Empowerment Principles were:
* Access to leadership positions. Currently, Win & Winnow's leadership positions are 86% held by women. We have an internal policy that establishes a minimum of 70% of the directing, management, and/or leadership roles to be occupied and held by women.
* Communication free of stereotypes. Win & Winnow developed a communication plan that contemplates the representation of different axes of diversity — such as gender, age, racial or ethnic origin, sexual orientation, health — as well as educational content on the Women's Empowerment Principles.
* Inclusive workplace. The campaign "What does an inclusive workplace mean to you?" seeks to highlight the actions implemented by Win & Winnow to be an inclusive and diverse workplace, arising from the Declaration on Commitment to Gender Equality, Diversity Integration, and Women Empowerment. This includes career development, remote work opportunities, work-life balance, promotion of diversity and inclusion, positive impact on society and the planet.
* Supplier diversity. Win & Winnow takes proactive steps in acquisitions to expand relationships with other Women-Owned Businesses. We recur to directories of certifying organizations to identify Women-Owned Businesses and other companies that promote a triple positive impact. We participate in trade fairs that promote the exchange between women entrepreneurs and sustainable companies.
* Support for caregivers. We implemented Maternity/Paternity soft landing Leave, with a part-time return for the first year. The licenses are extended to non-pregnant persons, secondary caregivers, single-parent families, adoptive parents, and also to grant more days for existing leave.

About Win & Winnow Language Services
Win & Winnow Language Services is a language service provider with a regional presence and a global reach committed to supporting our clients in their global impact through comprehensive language solutions that guarantee quality and continuous improvement. As a Women Owned certified B Corp we aim to make a positive economic, social and environmental impact through our processes.
More information: www.winandwinnow.com