Board Candidate, 2023-2024 Term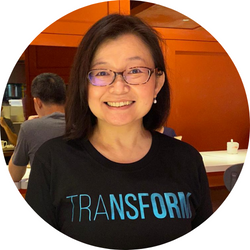 Shirley Yeng
Chief Strategy Officer, Successglo Pte. Ltd. | Singapore | LinkedIn
"If there is a tagline for GALA in 2023/2024, I would propose 'Transforming Lives'. Putting people first is my motto."
An industry association can help organizations prepare for challenges that lie ahead. What do you think are our industry's greatest challenges and how can an association like GALA make a difference?
What can we build with the hybrid model now that people are getting used to both online and onsite? Is truly the golden opportunity now or never to have GALA accessing the regions that GALA might not have been able to engage due to geographical challenge or lack of representatives that are willing to bring GALA to the regions. Therefore, I would like to assist GALA to be able to:
Bring its presence into more regions in the world. This means besides having GALA hosting the regular programs and events at a global level, engagement levels at local regional community with the help of GALA members who are most willing to volunteer some of their time. In reality, there are our peers in our industry who are willing to give some of their time to serve for a higher purpose on top of their daily work. This gives them a sense of belonging to our industry and affirm their contribution in a bigger circle of influence.
If there is a tagline for GALA in 2023/2024, I would propose 'Transforming Lives'.
Putting people first, growing the global community of LSPs and localization professionals who would be drawn to GALA naturally as their trusted source of wisdom and strength to grow their own paths and yet lifting up the rest of the peers in our industry. That is how I would envision all of us through the works of GALA succeed as individuals and as an industry!
In what ways have you engaged with GALA as a member?
GALA Knowledge Center has been the go-to trusted source for all my 110 over staff located in SuccessGlo Beijing, Yantai, Hanoi, Singapore and now Tokyo offices for its articles, blogs and videos. We carried out some of the best practices we have learned in our organization.
Are there other ways you have engaged with our industry?
I am currently serving in the leadership team for Women in Localization Singapore Chapter as the events manager. Prior to pandemic, I travelled around the globe to attend GALA, LocWorld, tekom and other conferences to network and hope to build the bridge between the West and the East. Back in 2013, when LocWorld was held in Singapore and I was serving in the Singapore programme committee and given workshop on culture and language.
If elected, which segment(s) of GALA's membership will you represent? What perspective will you bring?
Engaging LSPs/professionals who have already signed up as members through nurturing community strategies/plan of actions. Objective is to build a stronger GALA identity and belonging in them and their organizations, deriving in more participation in GALA activities, and applying what they learn to bring growth to business and GALA.
Do you have any special skills to bring to the Board?
My experience would be 'technology X marketing'. Furthermore, being a VP of growth in my previous endeavor and my current role of being the strategy office in my organization, I have the hands-on experience of setting up Singapore, Budapest, Hanoi and Tokyo offices. Working with different cultures is my strength.