Board Candidate, 2023-2024 Term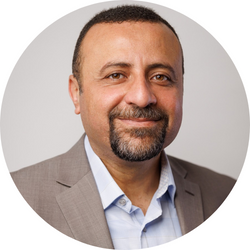 Mohamed Hassan
Sr. Director of Localization and Enterprise Solutions, Propio Language Services | United States | LinkedIn
"After 24 years in the industry, I mostly believe in togetherness, knowledge sharing, inclusiveness, advancing the industry, and fair competition."
An industry association can help organizations prepare for challenges that lie ahead. What do you think are our industry's greatest challenges and how can an association like GALA make a difference?
There are two major challenges among several others that face our industry, the first challenge is the disconnect between demand and supply, and the second is lack of standards. GALA can help narrow the gap between clients and providers by providing education, best practices, and guidelines. GALA can cooperate with clients and industries' organizations in explaining needs, regulations, and help set realistic expectations. One great initiative could be "Democratizing Industry and Localization Profession Knowledge" to bridge the demand-supply gap. This initiative is about creating a collective pool of knowledge that covers the basic industry information, languages' characteristics, technology fundamentals, services definitions, pricing models, professions, and ethics. A second initiative for GALA is to offer diverse types of memberships, and to open the association for freelancer members. This will position the association as an inclusive leader association that engages all industry stakeholders. A GALA Academy Platform could be a great strategy to overcome the two challenges and support the two initiatives mentioned earlier. It will help educate clients, providers, freelancers, and students. The academy can offer standard learning tracks (and potentially certifications), such education will at least help all stakeholders speak the same language, as well as continuously prepare more individuals to join the industry.
In what ways have you engaged with GALA as a member?
Collectively I have been a GALA member for at least 15 years. I had the pleasure to participate in few initiatives, presented in few events, served as a program committee member, wrote a couple of blogs, and regularly voted in all voting events.
Are there other ways you have engaged with our industry?
I attended and presented in other events like LocWorld, Tekom, and delivered webinars in different events.
If elected, which segment(s) of GALA's membership will you represent? What perspective will you bring?
I have been on both supply and demand sides. I will bring inclusiveness, togetherness, and collaboration perspectives.
Do you have any special skills to bring to the Board?
Planning, standards, technology, and marketing.