Board Candidate, 2023-2024 Term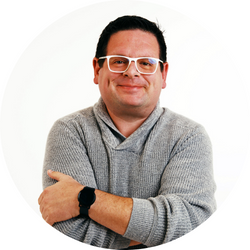 Jose Palomares
Director of Localization, Coupa Software | United States | LinkedIn
"We share the same destination, we just need to build strong bridges that lead us there (I'm a good builder)."
An industry association can help organizations prepare for challenges that lie ahead. What do you think are our industry's greatest challenges and how can an association like GALA make a difference?
An association like GALA brings us together and is the best place to provide us with the education, connections, and unbiased support we need to stay current, effective, and competitive. The localization industry is constantly in motion and continually growing. When the pandemic hit, we saw some businesses lost to it, but we also saw many new opportunities flourish, and we jumped on them, rethinking and often reinventing ourselves. And we will enter 2023 at the apex of this transition. The changes in trends, regulations, and technology alone have accelerated so much that it's so easy to fall behind and become obsolete. Check your LinkedIn, and you'll see so many of us talking about making remote work successful, the talent crisis, battling for DEI, using machine translation successfully in new and bold scenarios, AIs creating original content from old data, online learning powered by augmented reality, digital voices that can mimic dozens of human accents (including yours!)… Looking at 2023 and beyond, buyers will need sophisticated providers who can navigate and drive success through those trends, language companies will need teams who can do much more than simply translate, and just about every organization will require new types of leaders and services. We can let all this happen in isolation, everyone for themselves, or we can converge at GALA and connect, share, and grow together.
In what ways have you engaged with GALA as a member?
I have presented at multiple annual conferences, led industry panels, contributed to technology-related focus groups, spoken at webinars, been part of the Program Committee, promoted the organization to other groups, and asked a ton of questions at every opportunity.
Are there other ways you have engaged with our industry?
I have been a lecturer on translation & technology at the Universitat Autònoma de Barcelona, I have been part of the board/leadership of other industry associations like ATA and TILP, I have been an active member and mentor for organizations like Women in Localization and GlobalSake, presented at LocWorld, Tekom, ELIA, memoQfest, and many other industry and non-industry events, and been a LocLunch ambassador for the San Francisco Bay Area.
If elected, which segment(s) of GALA's membership will you represent? What perspective will you bring?
I hope to bring a rounded vision thanks to my dual experience as vendor and buyer, but I think the most valuable insights will come from my perspective as buyer and technologist. I want to see our industry achieve the level of innovation that we see in adjacent industries.
Do you have any special skills to bring to the Board?
I am skilled at selecting, purchasing, and building or implementing technology infrastructures, so you can count me in for anything that sounds like tech. I am also good crafting messaging that inspires others, building, running, and measuring programs, and presenting data.