2022-2023 Board Candidate: Patrick Nunes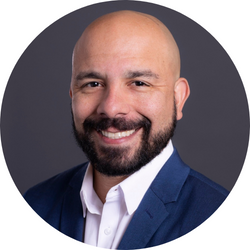 Director, Global Communications & Design, Rotary International
Located in: USA | LinkedIn
Favorite GALA program: GALA's Annual Conference
"I would be honored to continue serving the board and continue bringing my experiences to advance our association. Thank you!"
Patrick will finish his current board term on 31 December 2021
One of our main challenges remains to truly own our space as a strategic ally to every globalization effort. We have come a long way, and there is a lot to be done. In such a rapidly changing environment, it often becomes harder for those outside of our fields to truly understand our real value and how strategic we can be.
Another challenge is on properly preparing talent to carry us towards the future.
GALA definitely plays an essential role in both scenarios, since it provides the opportunity to really bring us all together, no matter what role we play. GALA provides the forum for exchange of ideas and sharing of knowledge, and it mainly serves as a strong platform where we can join efforts to shape the future of our industry, as we have repeatedly proven that we have the capacity to adapt.
As an active GALA member, having served as a member of the GALA Conference Program Committee and currently serving as a board member, I have observed how the landscape of the association has expanded and evolved, and as it has, our core values have become stronger.
GALA, in its 19 years of existence, has given its members countless opportunities to learn, research, share ideas, showcase services, and form real connections. During all this time, and especially during the past challenging months of a pandemic, we have seen how GALA is as strong as its members, helping us continue to be thought leaders, no matter the circumstances.
Active in localization for over 20 years, I am passionate about the strength of our industry and the importance to position ourselves strategically. From owning an LSP to leading in-house programs, I trust the best results are accomplished when we truly inspire and engage those around us.
My beliefs:
Everybody has something positive to offer, no matter where they sit at the table.
If we have our hearts in the right place and the true desire to create positive impact, every vision can become reality.
The status quo needs to be challenged and serve as guidance for change and growth.