Translation Industry in Argentina: Changes and Continuity in the Last Five Years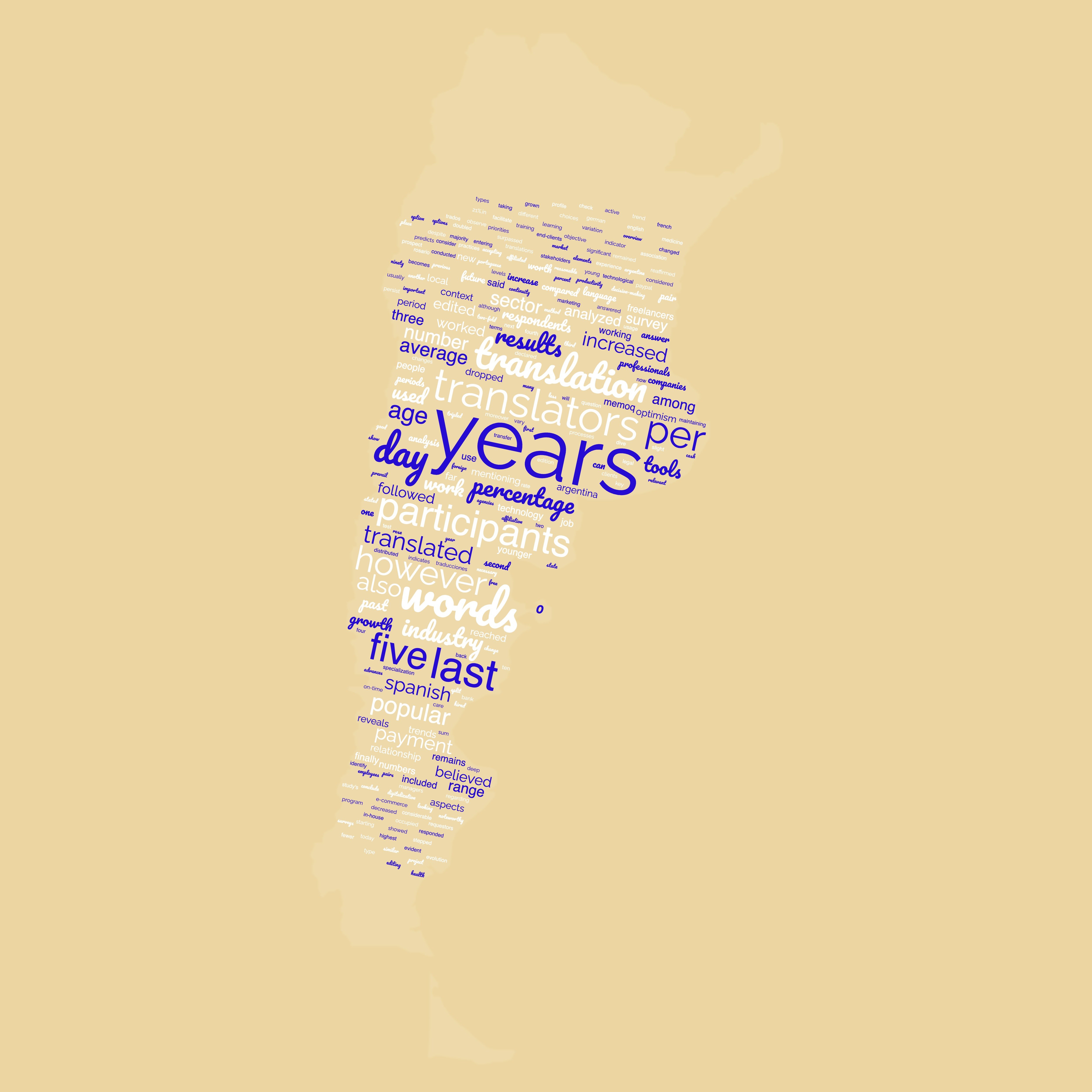 Do you want to contribute with an article, a blog post or a webinar?

We're always on the lookout for informative, useful and well-researched content relative to our industry.
Rosario Traducciones conducted the third edition of its survey on the state of the translation industry in Argentina. The study's objective is two-fold: identify key aspects of the industry and new elements that could facilitate stakeholders' decision-making processes.
The results show considerable growth in the sector over the last years and optimism among participants, which predicts that 2021 will be a good year for the translation industry. The evolution of young working professionals is also noteworthy.
This analysis also reveals which aspects persist and which changed and an overview of future trends.
Participants' Profile
As far as the age range of the people who work in this sector, the average age of the active translators in both analyzed surveys is 31-50 years of age. However, it is evident that younger professionals are starting to prevail. In 2017, 12% of the participants were in the 21-31 age range, but in 2021, this number doubled and reached 24%. This indicates a trend that translators are entering the market at a younger age.
The years of experience that the participants sum up is another indicator of this growth: from 2017 to 2021, the number of people working in the sector for less than five years tripled, from 11% to 29%. However, in 2017 and 2021, most translators responded that they have worked for more than ten years (57% in 2017 and 60% in 2021).
The most popular language pairs were also analyzed. From 2017 to 2021, the results do not vary: the most popular pair is English > Spanish, followed by Spanish > Portuguese, Spanish > French, and last, Spanish > German. It is worth mentioning that in 2017, 20% of the respondents worked in more than one language pair, and in 2021, such percentage dropped to 12%.
Finally, affiliation to a translators' association has decreased in the last years: in 2017, 42% of the participants said they were not affiliated, while in 2021, that percentage increased to 54%.
Specialization Trends
Regarding the most translated context types in the last five years, medicine was the most translated one over the previous four years. Only in 2017 was it surpassed by Technology with 55% and health care with 53%.
Legal context type becomes the second most translated in 2021, from 14% in 2017 to 33% in 2021.
Finally, despite how many believed in the prospect of digitalization and e-commerce, it is worth mentioning that marketing translations dropped from 42% to 28% in the last five years.
Average Productivity Per Day
A dive deep into translation reveals that, in 2017, 42% of Argentine translators translated an average of 2000 and 2500 words per day, the highest number included in the choices of the survey. However, in 2021, the survey had the option of more than 2500 words per day, and the results were split: 18% answered 2000 and 2500 words per day, while 19% translated 2500 words per day. The other 5% was distributed among the different options that included fewer numbers of words.
As far as editing, the number of edited words per day increased during this period. In 2017, most respondents (48%) said they edited 3000 words, which was the most popular answer. However, in 2021, the most popular range (40%) was between 3000 and 5000 words per day.
The percentage of participants who declared an average of 5000 words edited per day rose from 18% in 2017 to 21%.in 2021.
Industry Growth
Back in 2017, 38% of translators stated their work had increased in the past three years, and in 2021, that percentage reached 54%. With these numbers, we can conclude that the sector has grown in the last five years.
When looking into the future, optimism has increased: in 2017, 49% of translators believed their work would increase in the next three years, compared to 65% in 2021.
Technology
Although there have been significant technological advances in the past years, there have been no new translation tools. However, we can observe a change in the usage of these tools. Trados remains the most used program in the last five years, and ninety percent used it in 2017, and that percentage remains the same today. However, MemoQ has stepped up two levels: 26% used it in 2017, and 63% use it now.
This increase is relevant because MemoQ was not among the three most used tools in 2017 (the fourth with 26%); respondents believed learning how to use it was necessary. In 2021, this is reaffirmed as 34% of translators consider it the first answer to the question: "Which tools should have more training?"
Similar results
In terms of translation clients, in 2017 and in 2021, the majority of the participants worked for translation agencies and local companies. However, in the past five years, there has been a slight variation to second place: in 2017, it was occupied by local end-clients (50%), while in 2021, by foreign companies (50%).
In both years, requestors usually hired freelancers (93% in 2017, 83% in 2021).
Moreover, in 2021, 12% of the participants are in-house employees who also work as freelancers.
The analysis also compared payment practices, and the results showed that in the last five years, the most popular payment method is bank transfer (89% in 2017 and 91% in 2021), followed by cash, PayPal, and check, all of these below 30% in both analyzed periods.
The priorities of translators for accepting a job or maintaining a job relationship remained the same during this period. Most important is the payment rate, followed by the on-time payment and the relationship with the Project Managers.
As for taking a free translation test of up to 300 words, more than 80% considered it reasonable in both periods.
GALA Content: What's In It for You?

Why invest your time in reading GALA's webinars, articles and blog posts, and checking out the webinars? Because they're food for thought as you evolve your business strategy

Sign up here for our newsletter on globalization and localization matters.