Project Manager Priorities in Argentina: On-Time, Quality Deliveries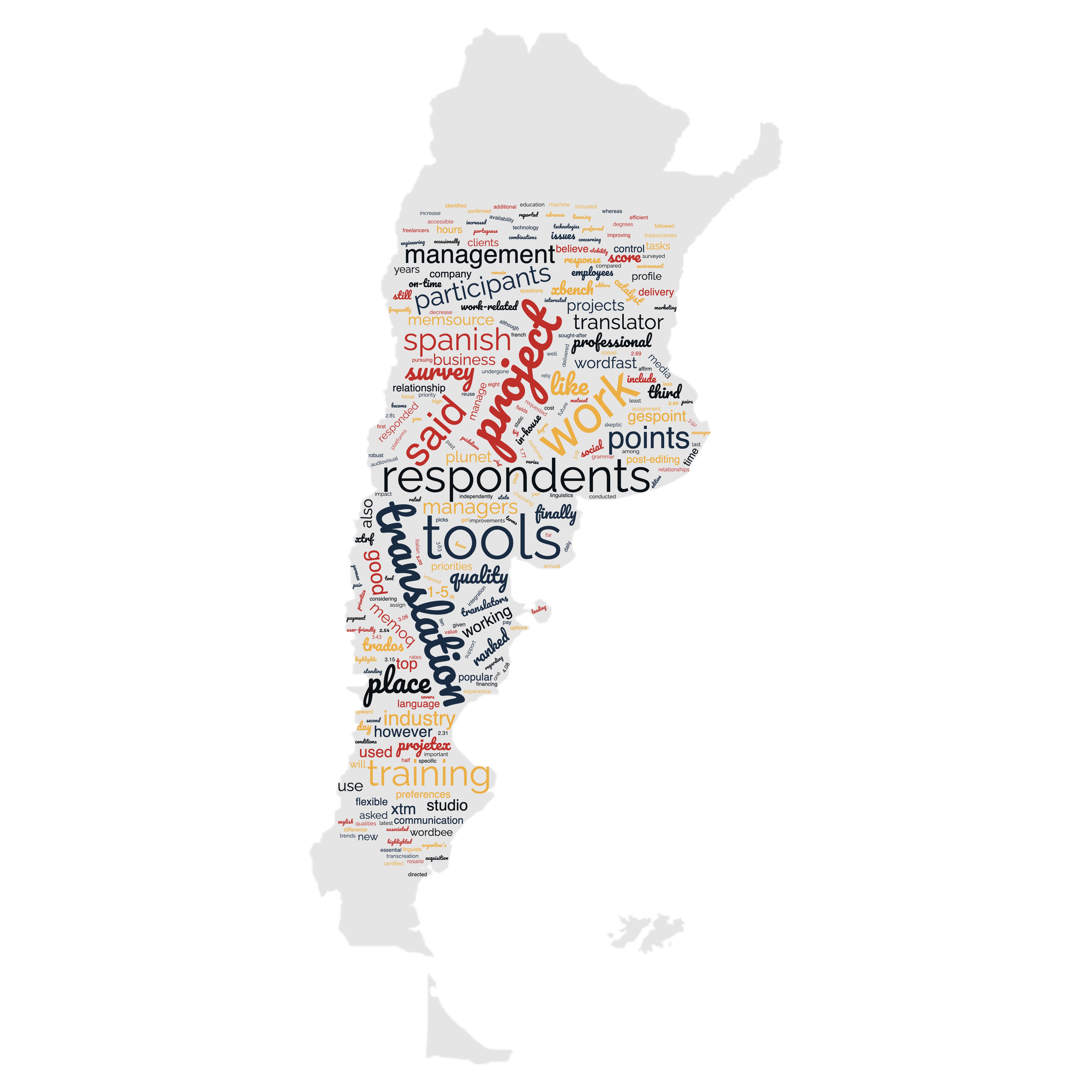 Do you want to contribute with an article, a blog post or a webinar?
We're always on the lookout for informative, useful and well-researched content relative to our industry.
Rosario Traducciones conducted a new edition of its annual survey to know the state of Argentina's Translation Industry. This time the focus is on project managers, their profile, and daily tasks. One of the survey highlights is that 100% of the respondents said they work 8+ hours a day, and most are in-house employees. The survey also covers the latest trends and the tools most used in the industry.
Participants' Profile
68% are professional linguists with a degree in translation, while the other 32% have degrees in associated fields, such as engineering and education. Although they all work as project managers, 55% said they haven't undergone any specific project management training. However, 73% confirmed their interest in additional training to become certified PM.
Most Popular Language Pairs
As for the most requested language pair, all the respondents identified English > Spanish. Other combinations (from the most popular to the least) include Portuguese > Spanish (71%), German > Spanish (36%), and finally, Italian > Spanish and French > Spanish (29%).
Working Conditions
62% of the participants have more than ten years of experience in the industry. 42% of them are in-house employees, and the other 27% are freelancers. There is a big difference compared to the survey for Translators and Editors, where more than 80% of the respondents said they work independently.
100% of the respondents said they work eight+ hours per day, 69% reported their work increased in the past years. As for the future, 69% believe that work will be upward, while the most skeptic participants (31%) affirm that work will decrease or remain static.
Technology
Regarding social media, more than half of the respondents (64%) stated that they do rely on social media for professional use. Whereas 27% said they use the platforms frequently and 14% use them occasionally. The survey also included questions about the impact of new technologies on the translation industry. 75% of the respondents believe that tools should be more efficient and integration should be more accessible. 69% would like improvements in MT quality, while 62% would like more user-friendly tools and increase reuse. 44% responded that the advances should be directed at improving customer support, 37% highlighted the high cost of licensing and acquisition, and 31% would like more robust tools.
Project Management Tools
The top 5 most used project management tools are:
Plunet (92%)

XTM (50%)

Gespoint Translator Business (25%)

Projetex (50%)

WordBee (16%)
However, when surveyed about their preferences, participants responded: 85% preferred Plunet, 23% Projetex, 15% XTM, and 15% Gespoint Translator Business.
When asked which tools they would like more training on, Plunet is still the leading tool with 54%, Projetex with 45%, XTM and WordBee with 36%, and Gespoint Translator Business with 27 %.
Translation Tools
As for tools used for translation, quality control, and post-editing, the respondents said they work more with MemoQ and Xbench (87%), followed by Trados Studio with 80% and Wordfast in third place with 53%.
Further below are Memsource (47%), XTRF (27%), and Catalyst (7%).
However, choosing tools varies: Xbench and Trados Studio are the top picks with 80%. MemoQ (47%), Wordfast (13%), and Memsource (7%) were ranked in third place.
Finally, project managers ranked the tools they would like more training on: In the first place, XTRF (38%); in second place, MateCat, Memsource, and Trados Studio (31%); in third place, Lilt, Xbench, and Wordfast (23%) and in the last place, MemoQ (15%) and Catalyst (8%).
Training
As far as professional training goes, respondents said they are interested in pursuing training on quality control (62%), machine translation, and post-editing (56%), among their top options. Project management (44%), time management, financing and transcreation (37%), audiovisual translation (31%), translation tools (31%), marketing for translators (25%), and Spanish grammar and linguistics (25%) were also ranked.
Work Priorities
Respondents said they prioritize working relationships and work environment (3.63 points) while still considering it essential to get on-time payment (3.19), good standing with the company (3.06), job stability (2.81), and company response to work-related issues (2.31).

*1-5 score
Project Assignment Priorities
Project managers rated the most sought-after qualities in a translator to assign translation projects. These include:
On-time delivery (4.08 points)

Quality of delivered tasks (3.92 points)

Availability (2.69)

Good communication (2.54)

Response to work-related issues (1.77)

*1-5 score
Relationship with clients they manage projects for
Finally, participants were asked about their preferences concerning the clients for whom they manage projects. They value clear working guidelines (3.43 points) and a good relationship with the Project Manager (3.15), as well as good communication and flexible delivery terms (3.00 points). Less important priority was given to flexible pay rates (2.50 points).
*1-5 score
GALA Content: What's In It for You?
Why invest your time in reading GALA's webinars, articles and blog posts, and checking out the webinars? Because they're food for thought as you evolve your business strategy
Sign up here for our newsletter on globalization and localization matters.