GALA 2022 San Diego Starter Kit
BeatBabel, your host for this year's GALA reception,
welcomes you to "America's finest city"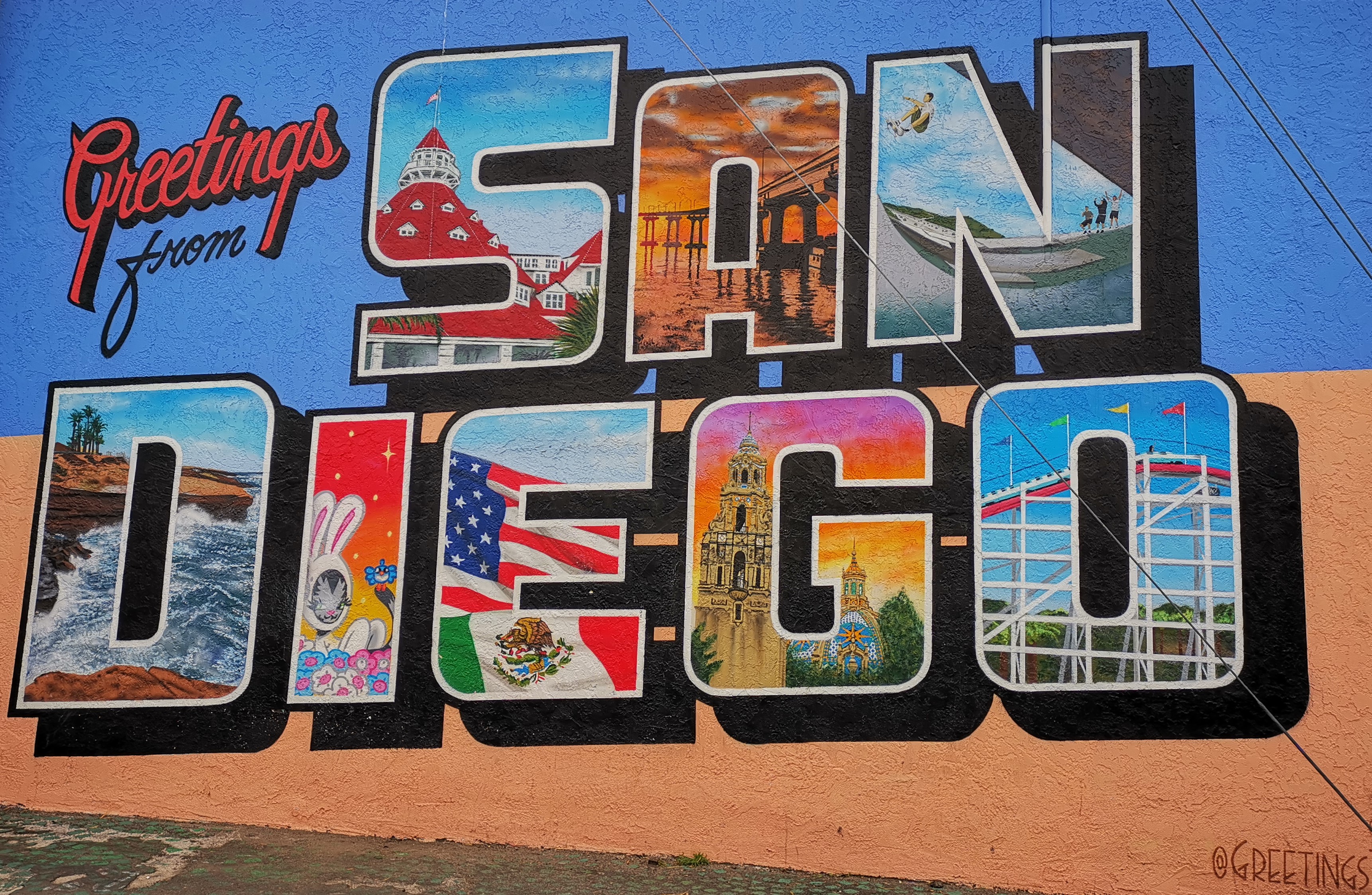 It's official, GALA 2022 is right around the corner, and we are delighted to be your local hosts of this year's in-person event. There are many reasons why this is going to be a special conference, so we had to step up as the home team and celebrate our company's lucky 13th anniversary in style.
You will probably catch our team at the Welcome Reception, which BeatBabel is hosting on Sunday the 24th, from 6 to 9 p.m.; at the Rising Stars competition, which we are sponsoring again; at any of the sessions that Marie Flacassier will be emceeing; or around town, in the vicinity of the Manchester Grand Hyatt, which is right in the center of downtown. It should be easy to spot us, we are the people who know their way around sunny San Diego! Speaking of which, our team put together a starter kit for newcomers to "America's finest city", so read on!

GALA's last in-person conference took place in Munich, and we know everybody's body thermostat is on the chilly side from staying at home, so no wonder everybody is excited about visiting warmer latitudes. However, don't get carried away with the flip-flops and Hawaiian print shirts just yet. April is a comfortable month in San Diego with average temperatures of 66°F (19°C). However, early mornings and nights get chilly, you won't want to be wearing shorts and a t-shirt when that happens.
April is also one of our favorite months to visit San Diego in the Spring because of the smaller crowds compared to summer months.
Dear Germans: you won't need your coat!

Last but not least, DO bring a bathing suit. The Pacific is cold, but if the sun is putting in the effort you can certainly go for a swim in April. Our favorite swimming spots are:
La Jolla Shores

: This beautiful mile-long beach offers the gentlest seas for swimming, expansive views highlighted by cliffs south and north. In the summer it is very common to see harmless leopard sharks hanging out by the sea floor.

Sunset Cliffs

: For the adventurers in the group, this cliff-surrounded beach is only accessible after a steep downclimb. We recommend you come visit the cliff but stay on top and go swim elsewhere!

Mission Beach

: This is the beach to visit if you are looking for the authentic 1950s USA beach town experience. Complete with boardwalk attractions, roller coaster and roller-skating next to the beach, this swim will have you humming Beach Boys songs all day.

San Diego is home to so many different nationalities and cultures that one can easily find examples of genuine local cuisine from any corner of the planet. However, there is one particular type of food you will have trouble finding the same quality of anywhere else (besides the country of origin itself) … Mexican food!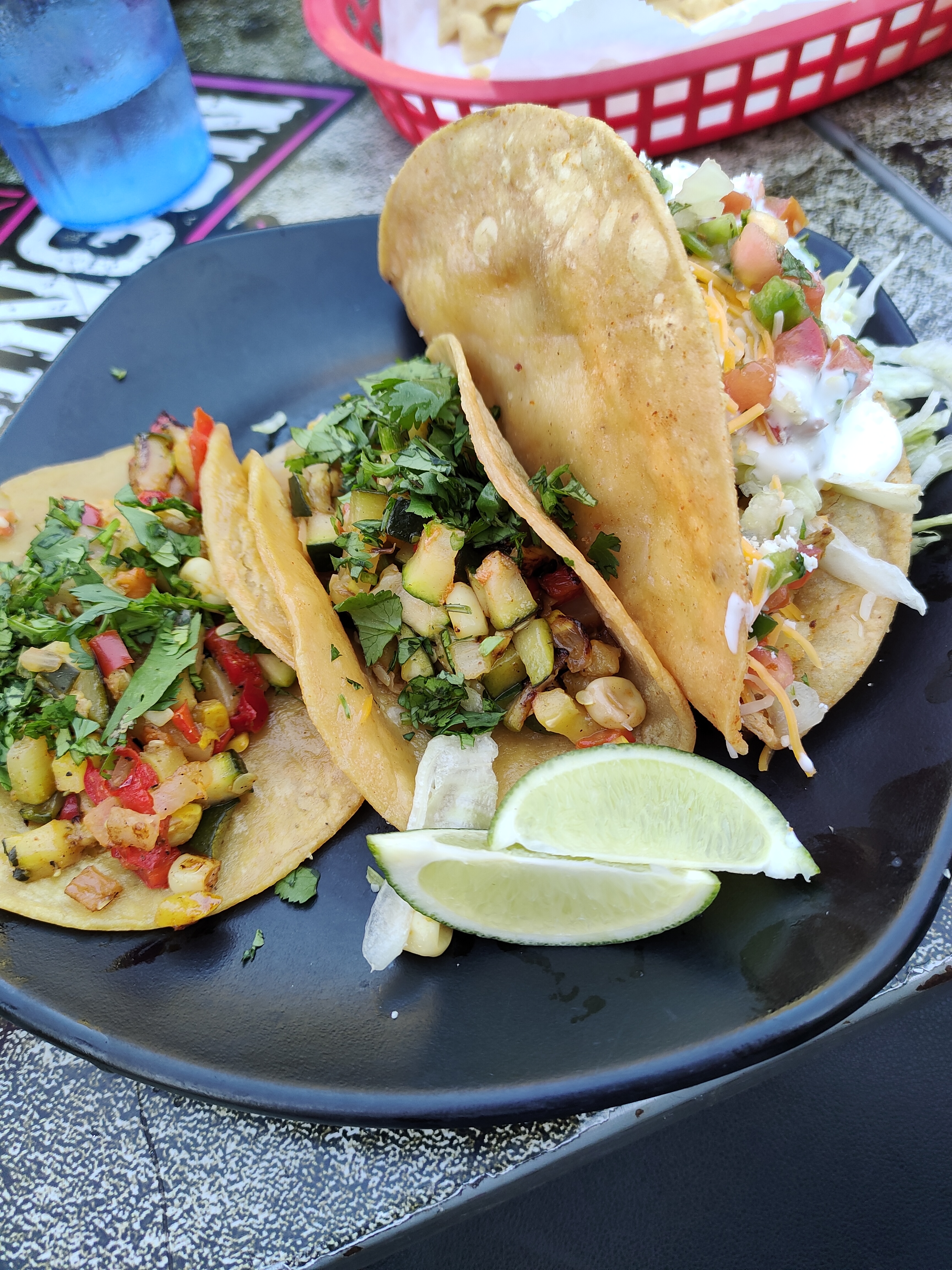 There is so much to choose from it can be daunting, but don't worry, the BeatBabel team has done the research for you, taking on the heavy burden of personally taste-testing all of these spots and hand-picking our top 3 for you:
Puesto

: With so many hole-in-the-wall taco shops and grab-and-go options, it seems strange actually sitting down to have a meal. But this Mexican restaurant in Seaport Village, minutes away from the GALA 2022 venue is well worth it thanks to their award-winning tacos and Margaritas.

Lola 55

: For a fancier taco experience, check out this stylish, urban dining space in East Village, just a 10 minute walk from the hotel. Their combination of mexican food and cocktails is highlighted by the vegetarian-friendly squash blossom tacos.

Ballast Point Brewing

: If tacos aren't your thing, check out one of the most famous local breweries in Little Italy. With so many draft beers on the menu, you might have to go back twice.
Below is a long list of other places we like to hang out in Gaslamp and Little Italy: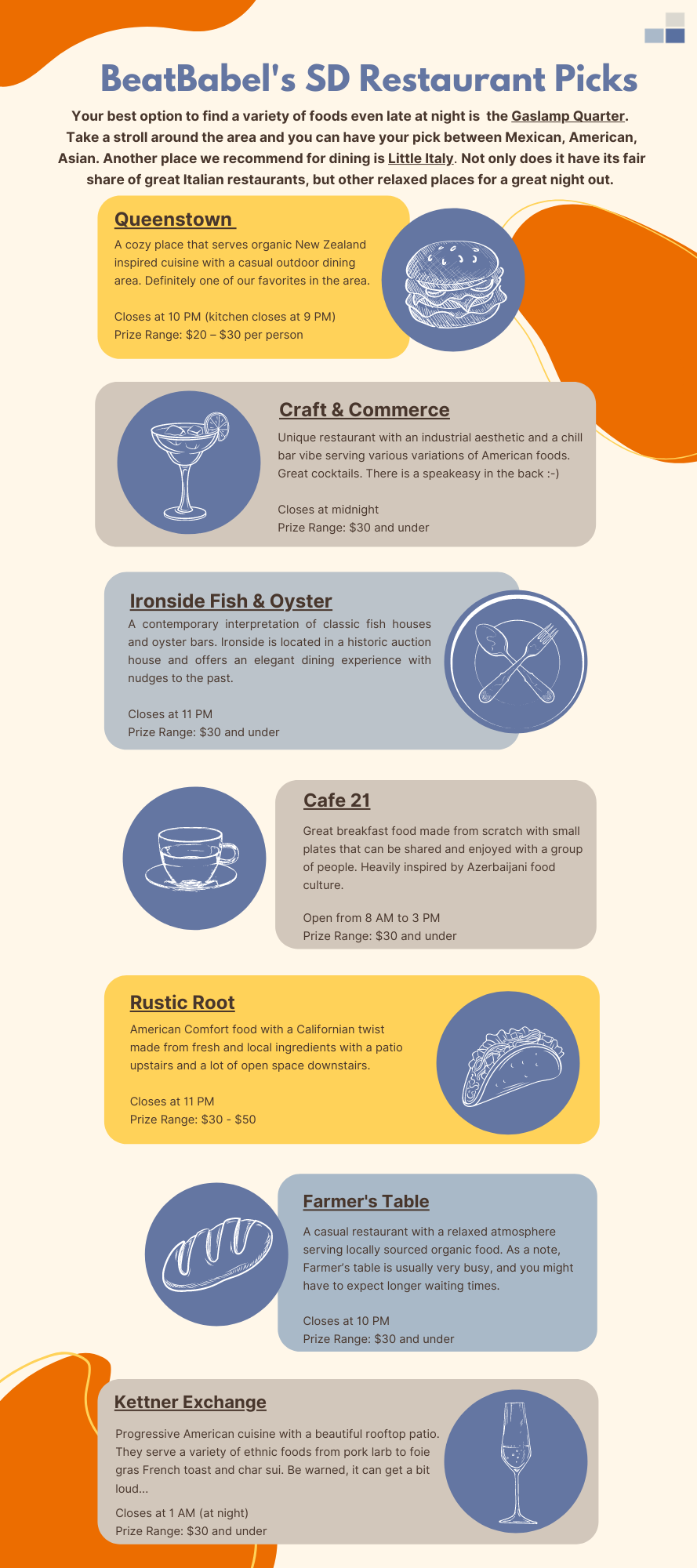 Lastly, an important note for the indecisive and last-minute planners: the dining options are limitless, but the tables aren't! There was a literal hunger for dining out after staying at home so long, so reservations are a must pretty much anywhere you want to eat!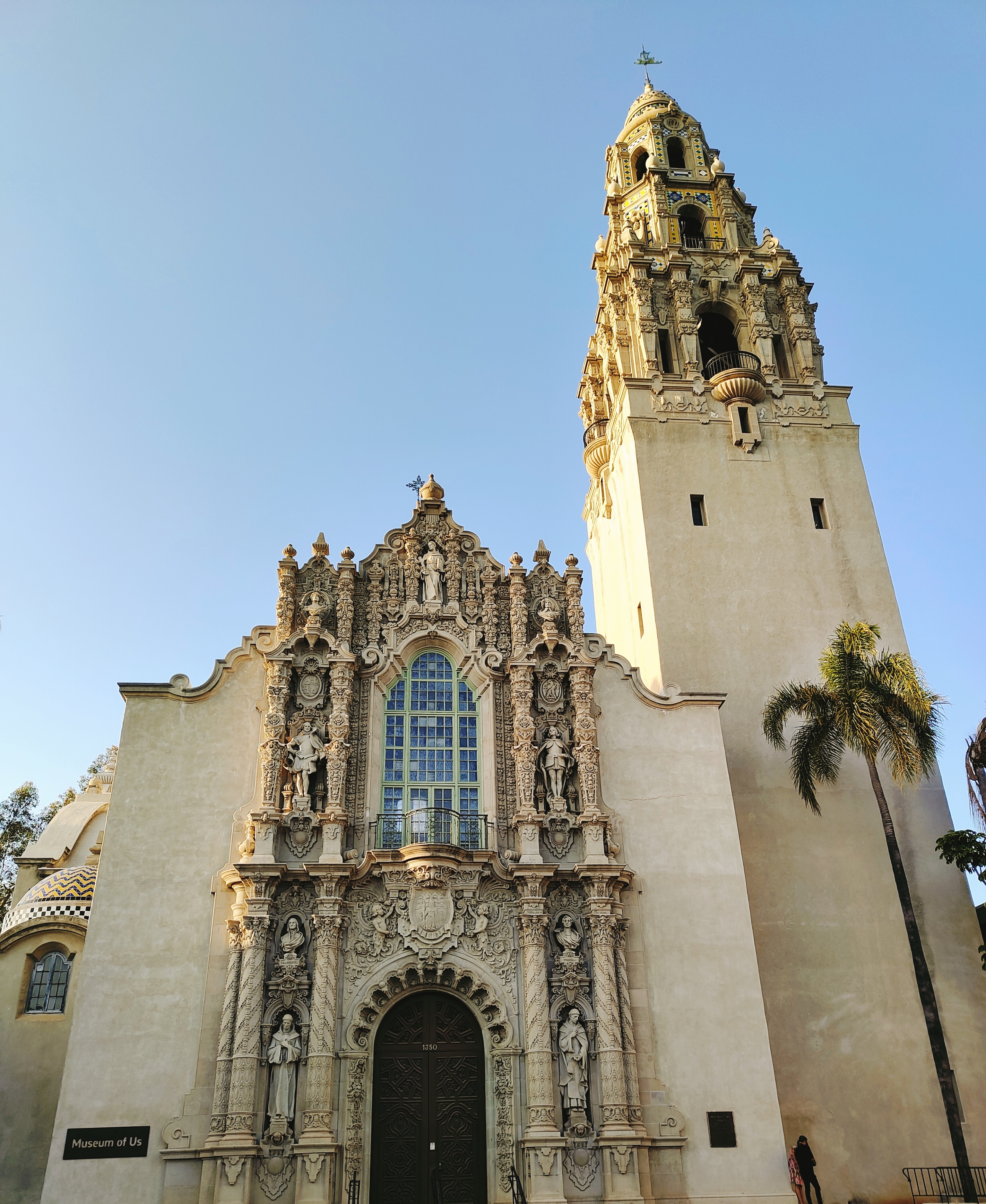 The list is so long. From Seaport Village and the USS Midway to Balboa Park, there are so many opportunities for sightseeing and exploring. Here are our top picks in the downtown area, and close to the Conference hotel:
Ferry to Coronado Island

: For a fun trip that doesn't require a car, hop on the Coronado Ferry either at the Convention Center dock or Broadway Pier (both are close to the conference) and cruise the beautiful San Diego Bay over to Coronado Island. Our favorite mode of transportation once on the island is the bike! The island is pretty much flat (unlike downtown SD) and you will love the breeze while you tour the bike paths.

Balboa Park: To visit the biggest urban park in the country, our favorite route is walking over the Cabrillo Bridge, which leads into the spanish-inspired architecture made for the 1915 Panama-California Exposition. You don't want to miss Spreckels Organ Pavillion, the Old Globe, the Japanese Garden and the Botanical Garden. You can also have a local beer and food at Panama 66, at the San Diego Museum of Art.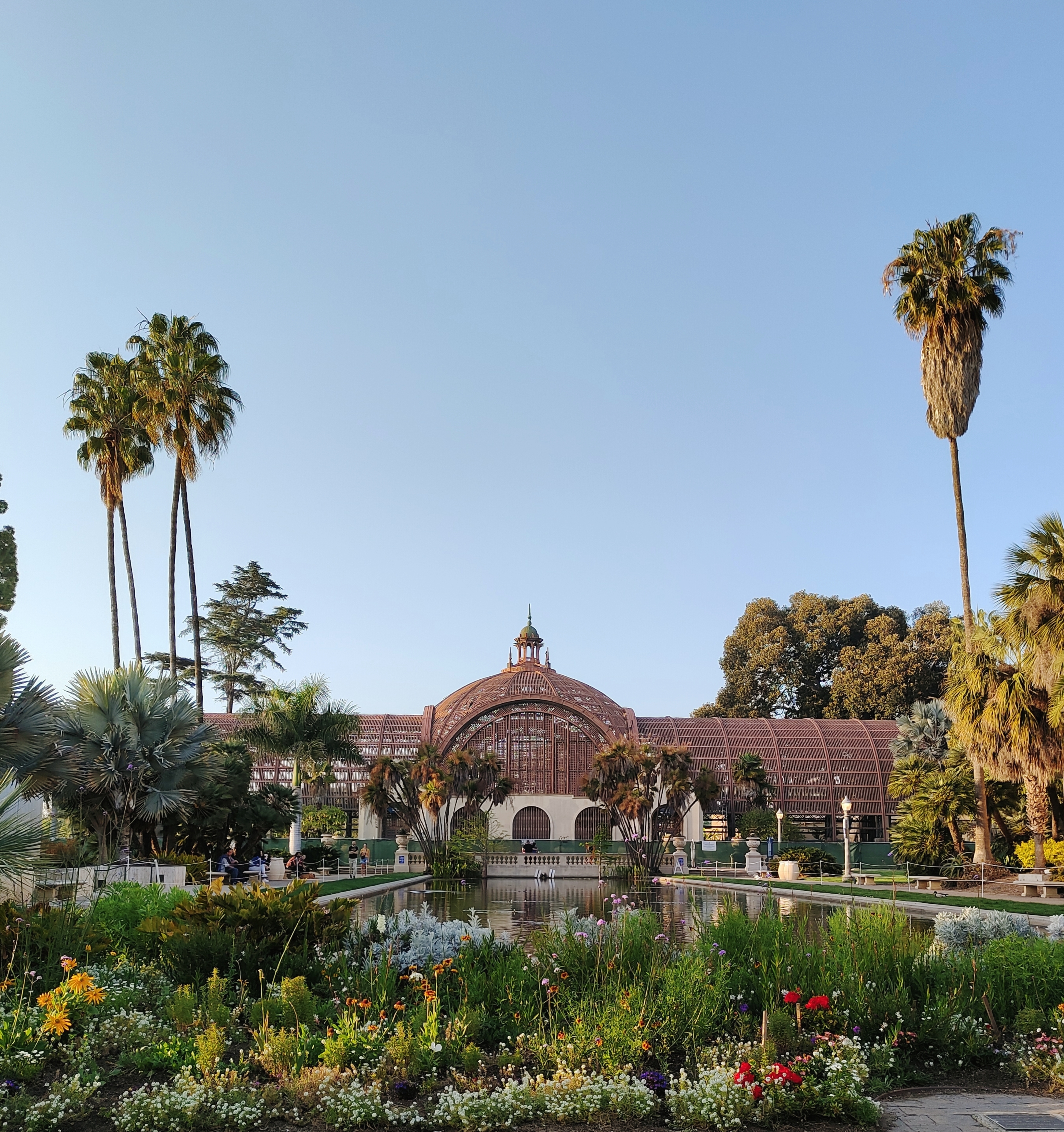 Now, for those of you who want to wander out and see the beautiful natural environment surrounding the city, here are some of our team's favorite spots:
La Jolla: A favorite of the local leopard sharks, who gather in the calm sands in the summer and can be seen from a kayak or even standing on the beach itself. They are completely harmless, but if sharks aren't for you, you can also visit the seals right off the cove. This is a unique underwater ecosystem which draws divers from all over the globe. And if you get tired of walking the coast, stop at La Valencia Hotel, an iconic pink hotel that seems straight out of a Wes Anderson film.

Torrey Pines State Natural Reserve

: This beautiful state park is a quick 20 minute drive from downtown. This area is famous for its unique pine trees, which were not common along the Southern California coast, and was called "punto de los árboles" by early Spanish explorers (1500-1700 AD), which literally means "Point of Trees." There are several trails which lead down to the coast safely, just bring water and a swimming suit just in case!

The Gliderport

: This is the absolute best way to see the cliffs, but it is only for the most adventurous of you! Some of our team members have had the chance to go paragliding there and they haven't shut up about it since.
If you have any questions, just ask one of the BeatBabel team members you will see attending the conference! We can't wait to have you here and share our little piece of paradise with you.
Safe Travels!
The BeatBabel Team