Top 3 Steps to Add Asian Languages to Your Portfolio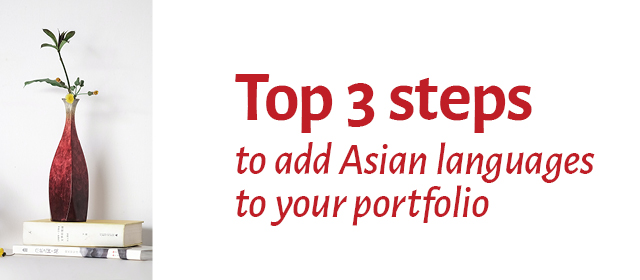 ---
Do you want to contribute with an article, a blog post or a webinar? We're always on the lookout for informative, useful and well-researched content relative to our industry.
Truth to be told, while the industry is evolving and growth is something we are used to, the model of securing a successful lead flow into the company only by inbound MKT is not enough anymore. And while some time ago, skillful PMs were enough to secure a steady sales income, currently, we observe this might not be the case. That is why we have to be as creative as possible in our sales approach, when it comes to successfully selling our services.
In this article we've chosen to list 3 steps we think are essential when you want to add Asian languages to your portfolio.
Here is the time to make a stand and answer the main question: why sell Asian languages?
Statistics speaks for itself: some of the top economies in the world are there, developing countries, huge populations, vast markets and a major language barrier with many of the countries. If you are an LSP that works in the B2B sphere, then your clients will surely turn towards Asian markets at a certain point.
And with that matter tackled, let's go straight for the initial step!
Define Your Clients' Needs
This is something you might hear from every marketer out there and you may think it is generic advice. The thing is – it is not! Defining your client's needs is the very first step of going forward. Why?
If you don't know what your client wants, how are you supposed to find the advantages of your product that will benefit them?
Let's use an example: can you name/describe 3 things your product solves for your top clients?
If the answer is no, then it is time to put some work into this. After all this is what our services do – solve the problems of your clients.
Develop a client's persona – define who they are, where you can find them, what they need from you and how your product/services will help them achieve it.
Once you get there, think about how to fit Asian languages into their picture, so it can get them to the goals they want to achieve.
Learn Asian Languages Specifics
You might wonder if you need this but believe us – you do! Asian languages have certain specifics when handling them and knowing your product gives you a better opportunity to sell it.
Being competent builds trust and saves you time in clarifying the client's projects prior to sending them to your chosen vendor. If the company you decided to partner with is as good as it looks, they'd be able to provide you with some training on how to sell better. After all, if you sell more, they'll have more work, right?
Choose the Right Partner
As essential as your own services are, we know that in our industry diversity of products in each company depend on the right vendors that compliment your own products and team capabilities. So when you've already established that you'd like to go further and start offering Asian language services to your customers, the most important thing you have to do is to conduct proper market research.
Check the available companies but don't stop there. Be through about the information you gather. It is not enough for the translation companies to have a very nice website only.
Here are a few things we'd recommend you to check:
Availability and responsiveness
ISO certification for translation and project management
Resources types and location of translators
Proper feedback procedures
Size and reputation of the company within the industry.
Conclusions
Sometimes we become successful by chance and sometimes we build success on our own. The road is always easier if there is a proper plan of action. With this article we've decided to give you some food for thought and a reason to think about selling Asian languages. The hardest part is the start and if you've got the first step already in your mind, then you are on the right track.
GALA Content: What's In It for You?
Why invest your time in reading GALA's webinars, articles and blog posts, and checking out the webinars? Because they're food for thought as you evolve your business strategy
Sign up here for our newsletter on globalization and localization matters.