Subtitling Tips for LSPs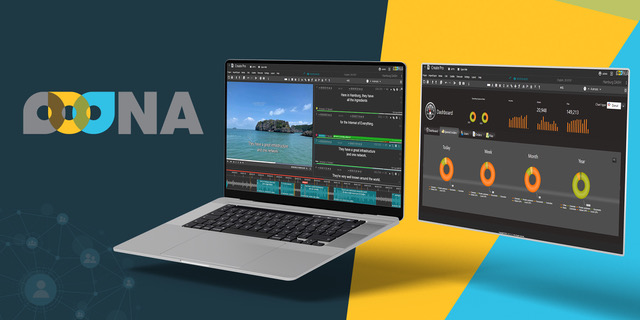 As reported by Nimdzi, 71.3% of the language service providers (LSPs) who took the 2022 Nimdzi 100 survey listed subtitling as one of their services, and 60.5% dubbing. Even more interestingly, most of these LSPs do not specialize in entertainment, which is a telling sign about the increase in video localization services in other verticals such as education and e-learning, as well as corporate and institutional work. This comes as no surprise as video has been shown to be consumers' favorite type of content and it is by now common knowledge that the internet is loaded with video traffic.
If you are an LSP, chances are you have already been asked by your customers to add video localization to your roster of services. If this has not been your area of expertise until now, you have either opted to subcontract the service to a third party or tried to handle it internally thinking it cannot differ much from the rest of your localization work, especially when the content is of the same specialized nature as the rest of your work. After all, there are tools available online to perform simple subtitling tasks – and everyone already does that on YouTube, right? Not if you expect to provide your client with the same level of quality as the rest of the services you offer.
Subtitles aren't any good if you can't read them
Subtitles are typically two lines of text at the foot of a screen, timed to appear and disappear in sync with the audio. As a result, such texts are governed by spatiotemporal constraints, which means the length of the text is limited to the number of characters a person is able to read in the time allotted for the subtitle to appear on the screen.
This typically implies that significant editing is involved in the subtitle translation process, as we can speak and hear more words than we can read in the same amount of time. Having trained many translators in subtitling, I have noticed that the hardest thing for experienced translators specializing in other fields who embark in subtitling is editing. While accuracy and completeness of the translation is of paramount importance in legal or medical translations, editing text down (or out) is a key translation strategy in subtitling. If your translators have never worked with subtitles before, you might well find yourself with subtitles that may be too wordy or fast to be read comfortably by the viewers, no matter how perfect translation-wise.
Subtitle timing is not to be underestimated
Half the work in subtitling is related to the spotting and cueing of the subtitles, in other words segmenting the text that will be displayed in each subtitle block in a way that readability and viewer comprehension are enhanced, and timing it in a frame-accurate manner. If you would like your subtitles to be of high quality in terms of timing, you need to select a tool that provides such functionality. Features like audio scrubbing, shot-change detection and keyboard shortcuts for timing controls are a sine qua non in professional subtitling editors and can make the timing task extremely cumbersome when not available. Such features are often lacking in most of the freeware available online, or even in traditional CAT tools that have added video capabilities in their interface for users to be able to work with more than just text. My advice? If you want your subtitlers to deliver the high-quality subtitles your clients expect, make sure you provide them with the right tool to do the work.
Cloud-based solutions
'Which tool?' I hear you ask. There are tens of tools in the market to choose from – desktop, online or hybrid – and it can be daunting to select the right one. Some high-end tools include functionality that might be too advanced for the average subtitle project and overwhelming for the users. An intuitive user interface is of paramount importance in any scenario, even more so when subtitling is an occasional activity rather than the core of your business.
Cloud-based solutions offer ease of deployment that is hard to match and are best suited for distributed workforces who can work from anywhere, on any operating system, without the need to download or install anything. As such, they have become the norm in media localization, just like migration to the cloud has become the norm in most other industries over the past decade. They are the preferred option for all major media localizers for one additional reason: security. Working with streaming video and DRM on any browser allows you to satisfy even the most demanding clients who require the utmost level of security for their projects.
The OOONA toolkit is a great example that offers all of the above and additionally boasts certification by leading streaming platforms. As such, it is the platform of choice for many LSPs tasked with working on high-profile releases for major studios.
Pay as you go
Pricing is of course an all-important factor in the choice of tool and can range from zero for freeware to a few thousand euros for perpetual licenses of high-end professional tools. In the noughties, pure-play media localizers would invest in such perpetual licenses coupled with an annual maintenance fee for upgrades and support. Things have changed in the past decade with software developers trending to a monthly, weekly or even daily fee where software is licensed as a service on a subscription basis. This makes for a more flexible model, better suited to a scenario where the seasonality of the workload fluctuates. Such pricing typically varies on the basis of the functionality that is part of the package. If you are not sure of the amount of video content you will be asked to work on, or the functionality you may need, this is probably the best solution for you.
Ready to start browsing? Visit the OOONA Shop for a solution tailored to your specific needs.
Want to find out more about the subtleties of subtitling as compared to other types of translation work? Register for the sponsored webinar by OOONA on 25th January and hear from subtitle trainer Dr. Stavroula Sokoli.