GALA Pulse Survey Results - Q1 2021
It has been one year since the global pandemic forced many of us to shift our work and lifestyles. In general, we know that the first half of last year was not easy for the GILT industry. With the advent of a vaccine, some countries are starting to open-up. Is business shifting once again? If so, how?
More than 160 language service and technology providers weighed-in with their responses to the GALA Pulse Survey. The results will help you understand how the market has changed in the past three months, as well as how industry professionals expect it will take shape in the future.
Recovery All-Around?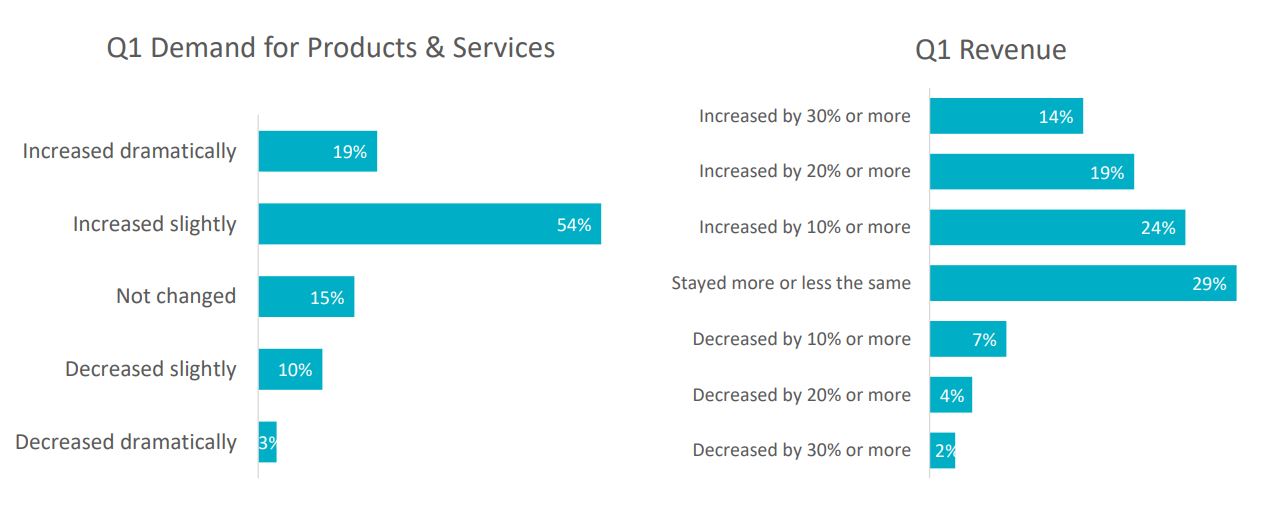 Demand for products and services is way up: 75% of respondents reported increases overall, that's greater than any quarter in the past year.
We previously reported that demand in Asia and Oceania has struggled over the past year. This quarter, it was the only region to report no decreased demand or revenue, a hopeful sign of recovery. Latin America experienced the fastest growth in Q1 with nearly 40% boasting dramatic increases, while the Middle East and Africa reported dramatic gains for the first time in over a year.
However, the path to recovery is not paved equally. Organizations with less than $10M USD and fewer than 100 employees reported decreases. Localization in the travel and retail industry space was still disproportionately affected. The games sphere found some stability, while companies offering consulting, and tools & technology development fared the best.
Meanwhile, revenue is about the same or slightly down from last quarter. This could have been a seasonal trend, with the holidays well behind us. Still, the last six months have seen way more stability than the nine before them.
Those based in the Middle East and Africa reported the most revenue losses at 25%, but certainly not the most severe, which were found in Latin America. It seems there are wide a diversity of experiences in that particular region.
When segmented by company demographics, we found that a third of organizations with 100-200 employees saw 30% increases in profits, the most by employee size. No losses were reported for larger organizations.
The most successful services in Q1 were education & training and tools & tech development. Surprisingly, staffing reported the most losses, despite the fact that a majority of GILT-industry respondents say they are making new hires. Technology, engineering & manufacturing, and financial services experienced the most revenue growth of all the sectors.
Current Measures
Scaling-up measures appear to be on the rise, with 85% reporting some efforts to scale up. Last year, that percentage stayed in the 70s, yet another indicator that things are looking up for our industry. Cost-cutting is on the decline, with only 1 in 2 reporting they are not cutting costs.
Excitingly, 60% of respondents report making new hires, and more than half are adding new products & services and on-boarding new technology.
Popular cost-saving measures are unsurprising: limiting travel budgets and closing office spaces. While many cannot wait to get back into the office, some companies are finding it's more economical to have employees work remotely.
High Hopes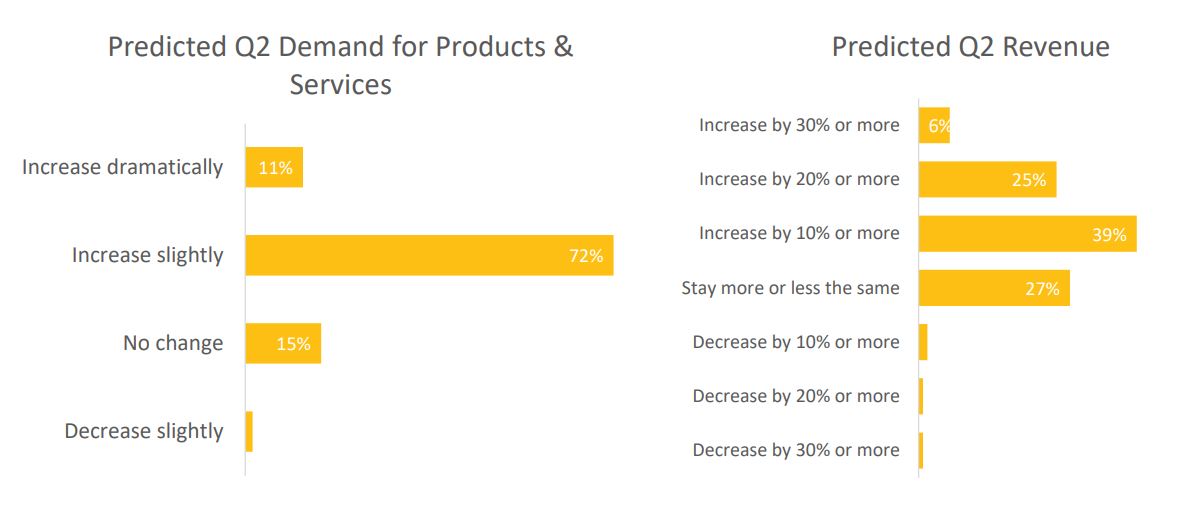 Predictions are high, but are they realistic? Only 2% of respondents expect demand decreases in the coming quarter:
Small businesses
Organizations based in Latin America
Companies offering multimedia localization and translation
Those in the public sector
All other respondents tend to think things will either get better or stay the same.
In Q2, consultants expect demand to nearly double. Of course, now that some things are opening back up, it's entirely possible for certain companies.
Compared to last year, folks are more optimistic than ever about the next quarter's revenue. A third are hoping for increases while another 40% think things will stay just as they are. Out of everyone polled, Europeans predict things will stay pretty much the same in Q2. Companies headquartered in the Middle East and Africa are hoping for moderate gains while Asia is predicting aggressive profits.
The least optimistic are companies with 100-200 employees, those with under $1M USD annual revenue, and organizations in the public sector or offering professional services. About 80% of those in tools & technology development expect some form of increases, as compared to half of those in education & training.
Business Outlook

The mood is also lighter than it has been in the past year: 70% of folks are optimistic, with only a fraction feeling the opposite. North Americans are the most hopeful, likely due to vaccine availability and a rebounding economy. However, those with a staff of 50-100 employees are the least reassured – perhaps because of the uncertainty mid-size organizations are still facing.
Interestingly, folks in the Middle East and Africa disproportionately anticipate big changes in the long-term. North Americans plan to stay the course. Larger companies anticipate the most changes in the future, as do those in staffing, and tools & tech development. The gaming sector expects things to be stable for a while.
At GALA, we're glad to see our folks reporting moderate recovery and a positive outlook for the future. As a truly global industry association, we appreciate diverse opinions and feedback. If you enjoyed this article, please consider contributing to our next Pulse Survey, and sharing it with others in the industry. We value your contribution.
All responses to this survey were anonymous. The survey was open to both GALA members and non-members alike. Specific number of responses varied per question. Only LSP and language technology company responses were analyzed. Annual revenue and other demographics were self-reported.