GALA Pulse Survey Results – Q4 2021
GALA Content: What's In It for You?
Why invest your time in reading GALA's webinars, articles and blog posts, and checking out the webinars? Because they're food for thought as you evolve your business strategy
Sign up here for our newsletter on globalization and localization matters.
In celebration of our 2nd anniversary of GALA Pulse Surveys, some of the charts will show a sneak peek of the trends over time. In this installment, you can see a curvature in demand and revenue over time. Of note, the aerospace and defense sector seems to be doing quite well, with optimistic outlooks for the future. While still hoping for stability, those in travel and retail report increasingly better revenues quarter over quarter. However, staffing signaled potential worry ahead, with 20% expecting some form of decreases this quarter, the most since we started running these Pulse Surveys. 92 of our industry colleagues answered the call to bring us the following results.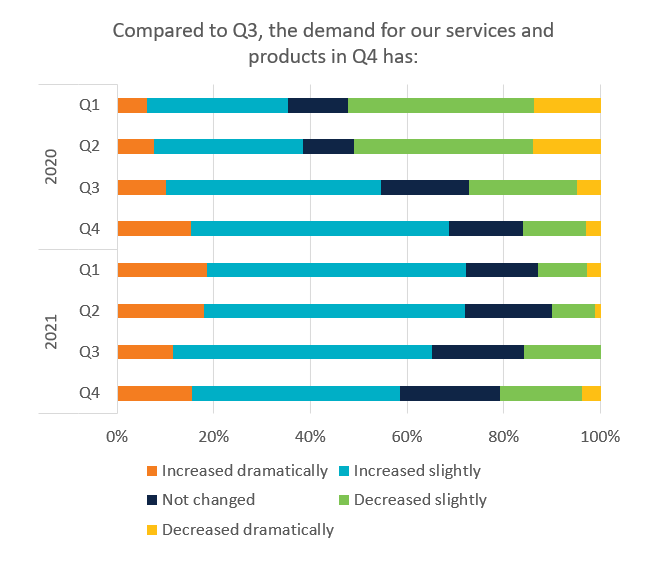 In the Past Quarter…
From the above chart, you will notice a slight curve in the data, with the last quarter of 2021 having experienced regression in both demand and revenue. When isolated by region, LSPs headquartered in Europe do not follow this trend, but instead show a slight incline in demand. Segmented by annual revenue, companies making USD $5-10M and over USD $26M saw demand growth rates disproportionately higher to the others, as did companies with 50+ employees, especially those who employ more than 200 people. Interpreting saw most dramatic demand decreases, education and training the most dramatic increases, and staffing was the most stable service. Media experienced the deepest demand gains while aerospace and defense had the most overall. Gaming was the most stable sector, while professional services reported the most losses. Those in travel and retail reported a dramatic recovery in demand and even some stability after last year's tumultuous market.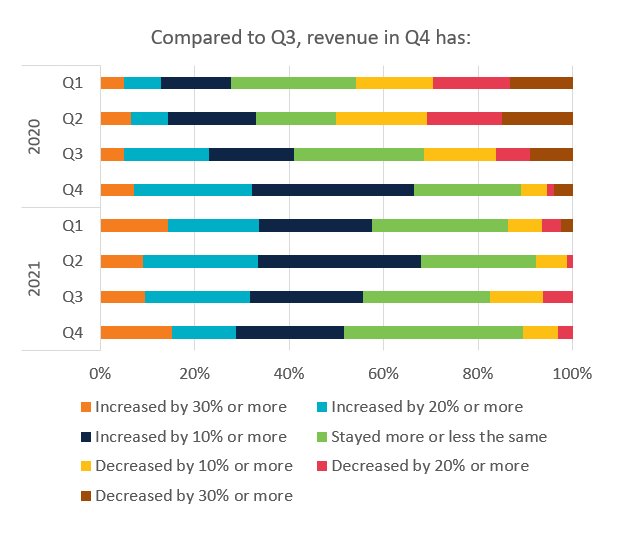 When looking at the revenue data in regard to specific regions, all are generally on curve except organizations headquartered in the Middle East and Africa, that have continued to experience decreases. Interestingly, organizations with an annual revenue of USD $10M and above report not seeing any decreases in revenue in the past year. Only companies with 1-50 employees reported revenue decreases, and even then they were mostly moderate. Tools and tech development reported no revenue decreases for Q4 2021, while education and training had the most increases. Interpreting was the most stable, while translation saw disproportionate decreases. Sectors were fairly even across the board except for aerospace and defense which reported disproportionately higher increases. Our numbers indicate a steady recovery for this sector, which had been at its lowest economic point in early 2020. Gaming, professional services, and the public sector look to have the most stable revenue, but financial services experienced the deepest gains.
Current Tactics
For the past year, about 85% of respondents have consistently reported their companies are making some sort of measures to scale-up. Marketing budgets, hiring, and acquisitions continue to rise. About half of respondents' report that their companies are still onboarding new technologies and adding products and services to their repertoires. For the first time we are seeing the trend of companies not cutting costs has decreased, and by a margin of 15% at that. This aligns with the revenue and demand curvatures mentioned earlier, signaling a slight regression in Q4 2021. In real terms this means we're seeing the return of some companies reducing their marketing budgets, freezing raises or reducing salaries, making layoffs, and requiring time-off without pay. However, it does not seem to indicate much reduced vendor or contractor rates.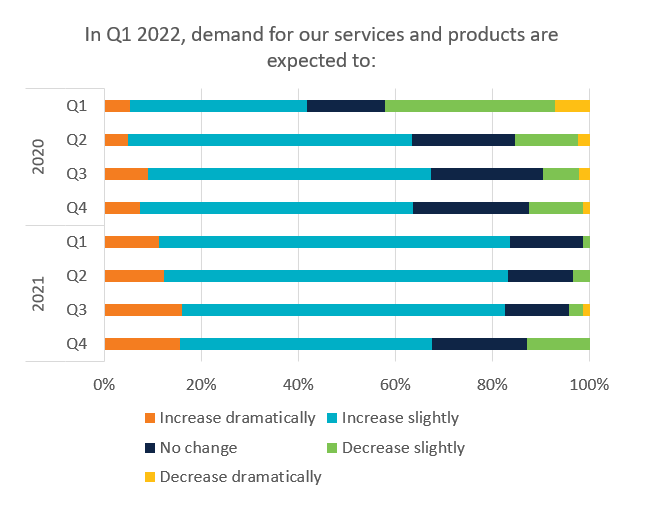 In the Next Quarter…
Nearly 70% of respondents are expecting demand to increase in Q1 2022, which is actually less than the last three quarters expected average by 15%. Why the regression, and where? Asia, North America, and Europe generally follow the low expectancy curve, but Latin America, the Middle East, and Africa are increasingly optimistic, perhaps by necessity. Companies in the USD $5-10M range are the expecting disproportionately more decreases, likely based on demand this past quarter. Small companies are hoping for the most dramatic increases in both demand and revenue to start off the new year. Staffing services are the most cautious they've been since Q1 of 2020, expecting nearly 20% in demand decreases. Those in engineering and manufacturing predict similarly. Those in translation, consulting, and tools and tech development expect the most increases. Aerospace and defense anticipate continued gains in demand, while the public sector hopes for stability.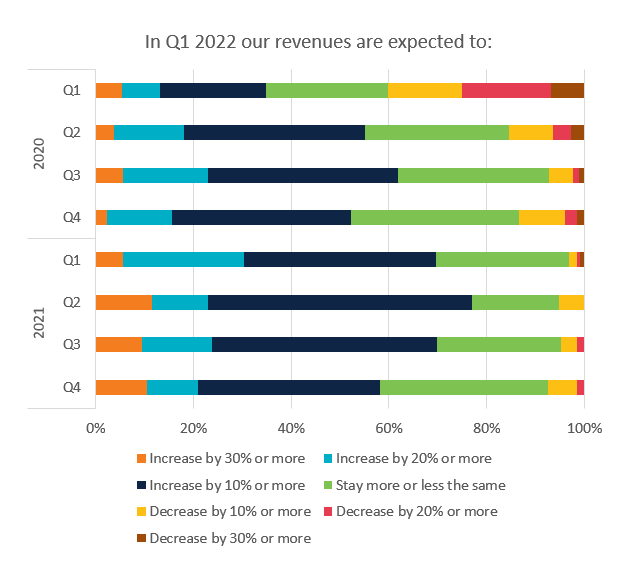 Believe it or not, revenue expectations are reportedly only 5% higher than at this time last year. While regions like Latin America and Europe follow the curve above, North America is increasingly optimistic. Everyone except those with an annual revenue of USD $5-25M don't expect revenue decreases, and even then only moderate ones. Tools and tech development expect only revenue gains, and deep ones at that. Those offering consulting and education and training are the other most optimistic groups. Staffing again is looking at decreases, which is a bit surprising considering they are consistently at the top of the charts. Does this signal an anticipated slow-down in hiring? Again, we see that aerospace and defense, professional services, and the public sector lead in revenue expectancy. Travel and retail hoping to gain a stability this quarter.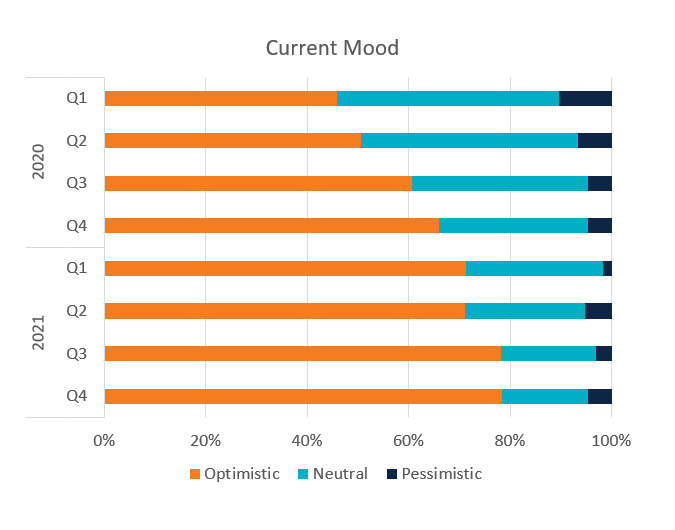 Mood & Outlooks
Asia is expecting big changes for the first time since Q1 2020, as are those in North America perhaps due to recent acquisitions. Companies making under USD $1M are hoping for big changes after years of conservatism. Are small organizations being forced to take bigger risks or do they finally feel secure enough to go ahead with their plans? Those in tools and tech development are expecting the most change, translation the least. The public sector hopes for big changes while professional services, travel and retail, not as much. Optimism in Asia has taken a big hit, down nearly 70% to be replaced with feelings of neutrality. Europe and North America are on an incline, and Latin America along with the Middle East and Africa are super optimistic. Those in the USD $1-5M and $26M+ have the sunniest outlooks. Those from companies offering tools and tech development report being 100% optimistic, while aerospace and defense are the most optimistic of the sectors. Keep a look out for the next Pulse Survey in April, when you can expect some different questions based on your feedback from this most recent survey.
All responses to this survey were anonymous. The survey was open to both GALA members and non-members alike. Specific number of responses varied per question. Only LSP and language technology company responses were analyzed. Annual revenue and other demographics were self-reported.
Sign up here for our newsletter on globalization and localization matters.