GALA Pulse Survey Results – Q4 2020
GALA benchmarked each quarter of last year using our Pulse Surveys – research intended to help our language service stakeholders understand how the market has changed in the past year, as well as how industry professionals expect it will take shape in the first months of 2021.
Our results reflect a snapshot in time, with input from more than 150 language service and technology providers.
We have segmented this information by reported demographics, revealing how LSPs have fared during times of uncertainty, along with their hopes for the future.
A look back…

Although for many it was a tough year, 2020 seems to have ended smoothly: 90% of those who took our Pulse Survey reported either increases or no significant change in revenues from Q3 to Q4. North and Latin America fared best, while Europe, Asia, and Oceania reported higher loss in revenue.
When segmented by company size, those with a USD $5-10 million revenue experienced a decent bump in gains, while companies with more than USD $26 million reported no decreases in revenue at all. Overall, there was a dramatic (33%) rise in increased demand from Q1 to Q4 of 2020.
Staffing was the only service to see losses in the past quarter, whereas translation, interpreting, and consulting have held steady in both revenue and demand since Q1.
North America saw notable demand increases by 30% up from Q3.
Companies with an annual revenue of under USD $1 million gained stability since our first survey, but ultimately did not see the big improvements that larger organizations did.
Since respondent information is anonymous, and responses vary by quarter, it is hard to extrapolate from the data if these are indeed true gains. At the very least it appears some companies have managed to recuperate initial losses from the second quarter of 2020.
Current measures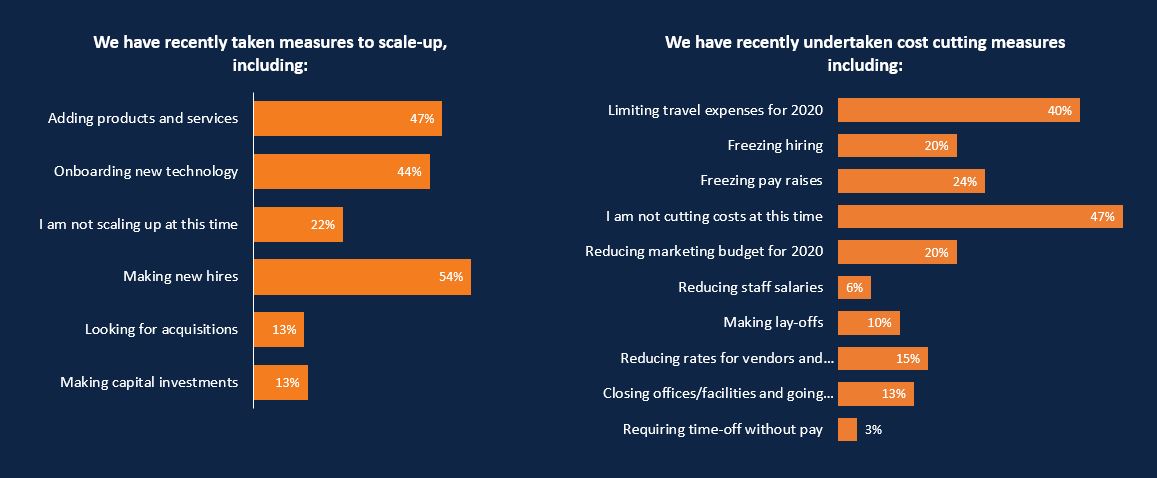 How are demands and revenues effecting the company?
According to respondents, its mostly positive: nearly all measures to scale up have increased except for acquisitions. In fact, nearly 80% reported some form of increasing business operations. Additionally, cost-cutting measures are far reduced – by 35% since the first quarter.
As a whole, we can see Q4 was the most prosperous quarter of 2020. But what does that mean in the context of mid-year losses? What does it say that the number of those called to answer the survey has halved? Who we aren't hearing from could be an indicator of who remains.
At GALA, we hope it means that our members are past this era of uncertainty. If your experience differs from these results, please be sure to continue the discussion online and answer the call for our next Pulse Survey.
New year, new optimism?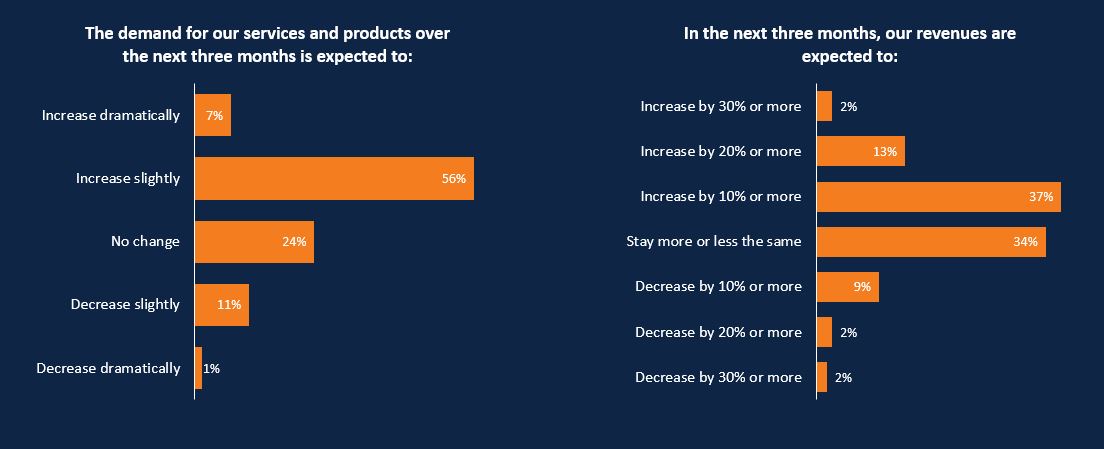 Most polltakers anticipate moderate increases for beginning of the new year.
Overall, people expect 30% fewer losses in demand than when GALA first started these surveys.
LSPs providing education and training as part of their business anticipate the most demand going into 2021, while those offering translation, the least.
All regions hope for gains, but Asia is not as optimistic as the rest, with one quarter of respondents expecting lower demand.
While more than 90% of large companies believe demand will increase, those making less than USD $10 million are not as confident.
Most forecast revenue to increase this quarter by 10% or more, especially in North America where 75% of those polled expect increased revenues.
About one third expect things to stay just as they are. Companies in the USD $1-5 million range are cautious about anticipating more revenue ahead. While not as optimistic as the last quarter, these predictions may perhaps be more accurate: when comparing how well survey-takers have anticipated the previous quarter, variances ranged from 25 to nearly 50 percentage points. However, nearly all erred on the side of overconfidence.
Business outlooks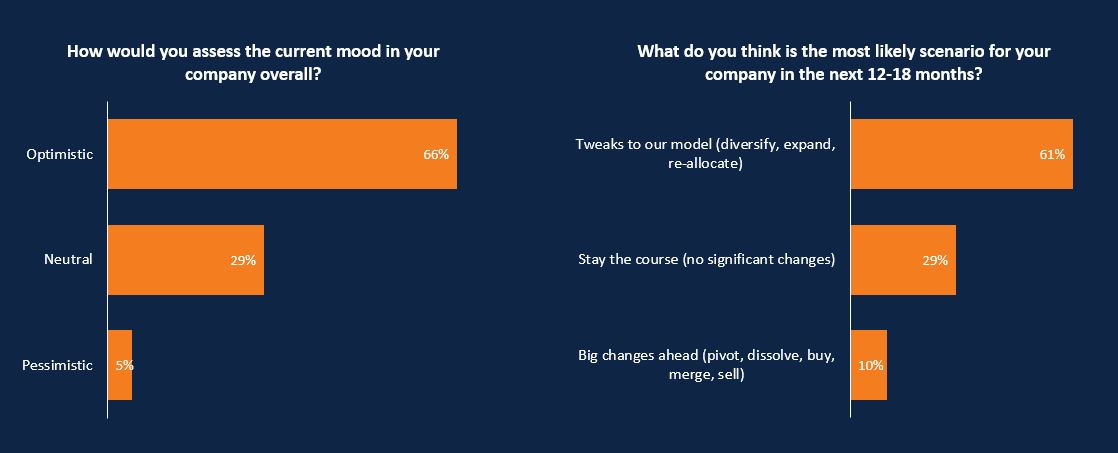 Interestingly, LSP prospects have not changed much throughout 2020.
Without having prior year's data, it's hard to say if these scenarios are common or unique to this year. Segmenting the data, we can see that those expecting the biggest changes ahead are companies in North America, those with staff of more than 50 people, and organizations making USD $10-25 million in revenue.
Generally, providers offering staffing, tools, and tech development also predict some change. Despite better Q4 revenues, those in consulting, interpretation, and translation are more nervous, as are smaller companies with lower budgets.
Still, optimism continues to rise. One theme the survey series has highlighted is that responses are increasingly regional. We can posture that this has something to do with pandemic policies, but also virtual readiness. Results can further vary based on products and services offered, as well as company size, something we hope to explore more in future series.
If you enjoyed this article, please consider contributing to our next Pulse Survey, which will start in March 2021. We value your contribution.
All responses to this survey were anonymous. The survey was open to both GALA members and non-members alike. Specific number of responses varied per question. Only LSP and language technology company responses were analyzed. Annual revenue and other demographics were self-reported.