Developing a Healthy Partnership and Lasting Processes Between LSPs and Client-Side Organizations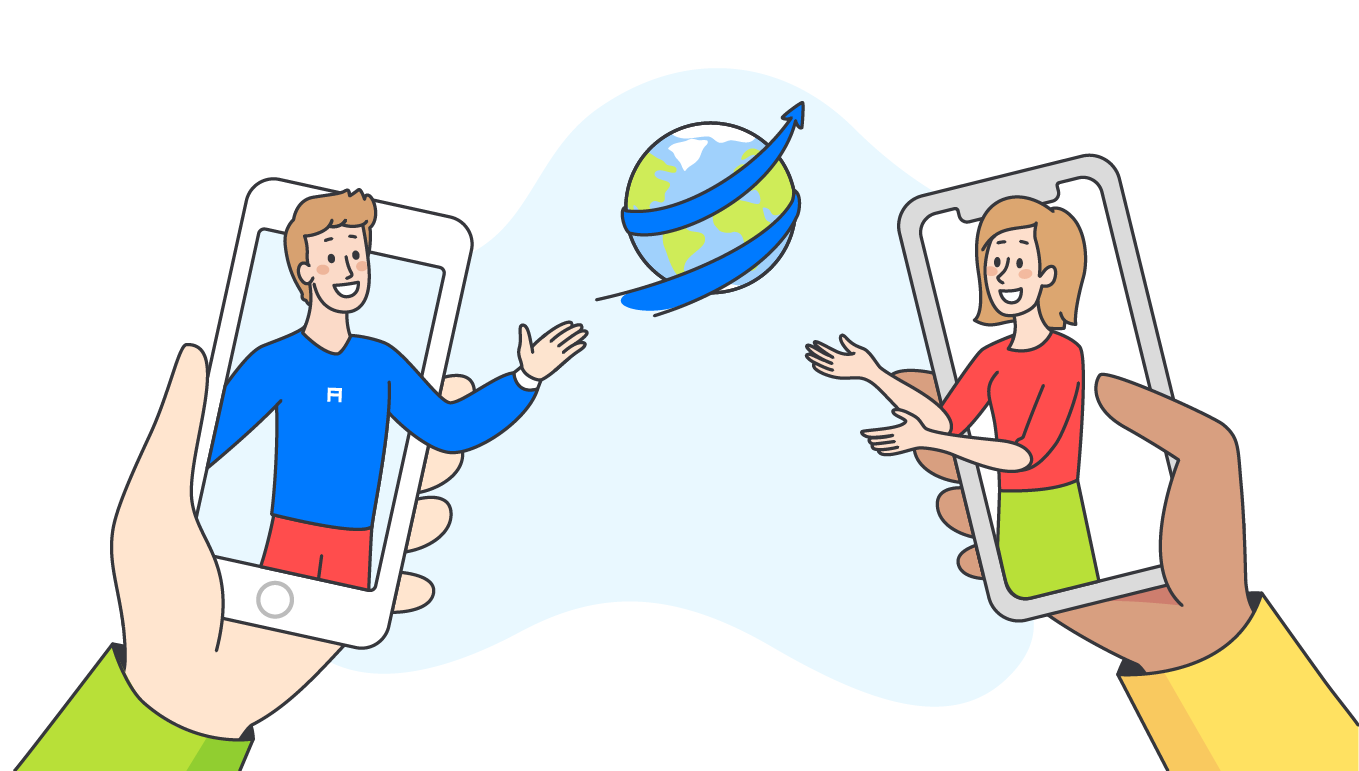 Sign up for our newsletter on globalization and localization matters.
Since 2004, our duty as a localization service provider (LSP) has been to help businesses bridge the gap between their products and international customers. As the localization industry evolved over time, we've come to realize that the mission of an LSP is more than to provide translation and localization services. In the bigger picture, it often means helping companies achieve strategic business goals on a global scale while contributing to a greater mission of making the world a more linguistically inclusive place.
The question of whether a LSP-client collaboration ends up as a one-time transaction or develops into a sustainable business relationship that interconnects people across the globe for years to come is dependent on a few variables. However, if we were to distill the recipe for a successful LSP-client partnership into a key ingredient, it would be the well-established process that's ultimately aimed at customer-centric project management.
How do you incorporate these two pillars of excellence into your organizational culture? To answer it, we reflected on a two-decade journey operating a localization business and came up with a roadmap for fellow localization vendors. It's based on what has helped us build strong, stable relationships with clients from diverse backgrounds.
Building a culture of customer care through team training
With the entire industry built upon the purpose of helping companies establish stronger relationships with their international customers, customer care is at the heart of our operations as localization service providers. Moreover, customer care should flow through "arteries" to embody the business and inform the way we vendors interact with our own customers.
Over the years, we've created a culture of continuous education. Our learning curve across departments is designed to build and align our employees' skill sets in three vital domains: Planning, Tools and Communication. Within the Communications area, we've implemented a gradual training program to help localization project managers develop essential soft skills and unite in the way they communicate with clients to solve business problems.
Business correspondence
Email is often the first point of direct contact with clients in the localization industry. So, we focus on two business-correspondence skills for our localization project managers. First, we train them to convey their key messages and structure emails accordingly so that they can be scanned and understood quickly. Second, we encourage them to write in a conversational tone that highlights their personality and helps establish a genuine but professional connection.
Generation of solutions
Localization vendors are here to help businesses navigate the operational complexities of growing an international business, particularly in operations that deal with words and their translations. Thus, professionals need two skills: the ability to generate localization solutions that are tailored to specific business challenges and fit their internal workflows; and the ability to give the clients the information they need to make informed decisions when they choose localization vendors.
Instead of bombarding a client with a laundry list of benefits, we teach managers to take time and gather as much information as possible about the project goals, technologies, timeline and budget. To provide valuable solutions, localization PMs need the ability to listen actively and respond to questions comprehensively. This applies to those that are explicitly stated and those that aren't yet fully formulated. It might involve selecting and explaining the features of a localization platform in greater detail, highlighting available APIs, sourcing translators with domain expertise or sharing helpful web resources. If the business needs for international growth go beyond localization, the localization manager who listens actively will grasp that and give detailed information on how additional campaigns can be set up to complement the initial project. For example, localization often goes with localization quality assurance or proofreading for high-stake projects. Some clients would prefer to outsource multilingual marketing or video production to the same agency instead of recruiting someone else to handle the task.
Communication, workflow and transparency
Once the localization objectives are clear and a solution is on the table, it's time to establish a comfortable communication flow. We teach managers to determine the preferred communication style right from the start.
The first step is to agree upon the communication channels that will streamline decision-making and project discussions. In our experience, the use of Crowdin for translation matters, Gmail for formal business issues (such as invoicing), and Slack for quick queries and urgent issues has been an effective approach for most localization projects. However, the channels of communication can vary depending on the client's workflows and regulations.
Another essential check point is to understand and provide the level of transparency and communication frequency that a client expects. For long-term localization projects, clients generally prefer to receive updates on the intermediate steps because it helps demonstrate the progress that is made. In such cases even a prompt email indicating that a certain action will be taken in the near future (for example, when finalizing a quotation) demonstrates focus on customer care. Other clients, however, prefer to receive updates on key project milestones only. Consequently, managers need to maintain concise communication and provide timely updates on the project's major developments.
The overall rule of thumb is to be the chief empathizer in a project; the one who possesses emotional intelligence and the ability to see the client's business from a wider perspective. This is a timeless customer-centric approach that has worked well for clients ranging from growing SaaS businesses with under 100 employees to technology enterprises with large localization and product teams.
Team leadership
Although it stays behind the scenes of direct LSP-client interactions, the quality of communication among team members working on a localization project inevitably affects the project outcomes. This is why team leadership is another skill we focus on when training our localization managers.
In practical terms, it involves the ability to assign tasks to translators and ensure that deadlines are met in a timely, efficient manner. (This also ties into the planning aspect of the training that we touched on earlier.) For larger projects, it can include framing roles for team members when several performers are working on the same language project while designating one translator as the editor responsible for project supervision.
A visionary localization project manager combines a sense of team dynamics and the ability to set clear guidelines. The former allows managers in charge of localization projects to empower leadership, creativity and responsibility for the results of a task with respect to each team member. The latter--an ability to set clear guidelines--provides structure and direction to ensure the smooth flow of the project.
How can LSPs integrate customer-centric training into their day-to-day localization workflows?
How can vendors fit leadership and customer-centric learning into their busy workflows and do so in a fast-paced industry such as localization while working with clients from diverse and dynamic fields such as games, apps, SaaS and marketing?
It begins with onboarding. An effective onboarding system should clearly explain the company's business culture and rules for LSP-client communication. For the next step, encourage self-education and provide localization PMs with recommendations on relevant materials to study. We keep ours in searchable Outline documents and customizable spreadsheets that support the learning curve.
---
Want some recommendations? Here are the books we encourage our employees to read so that they'll fully understand the clienting approach:
The Ultimate Question 2.0 : How Net Promoter Companies Thrive in a Customer-Driven World by Fred Reichheld

Emotional Intelligence

by Daniel Goleman

Delivering Happiness

by Tony Hsieh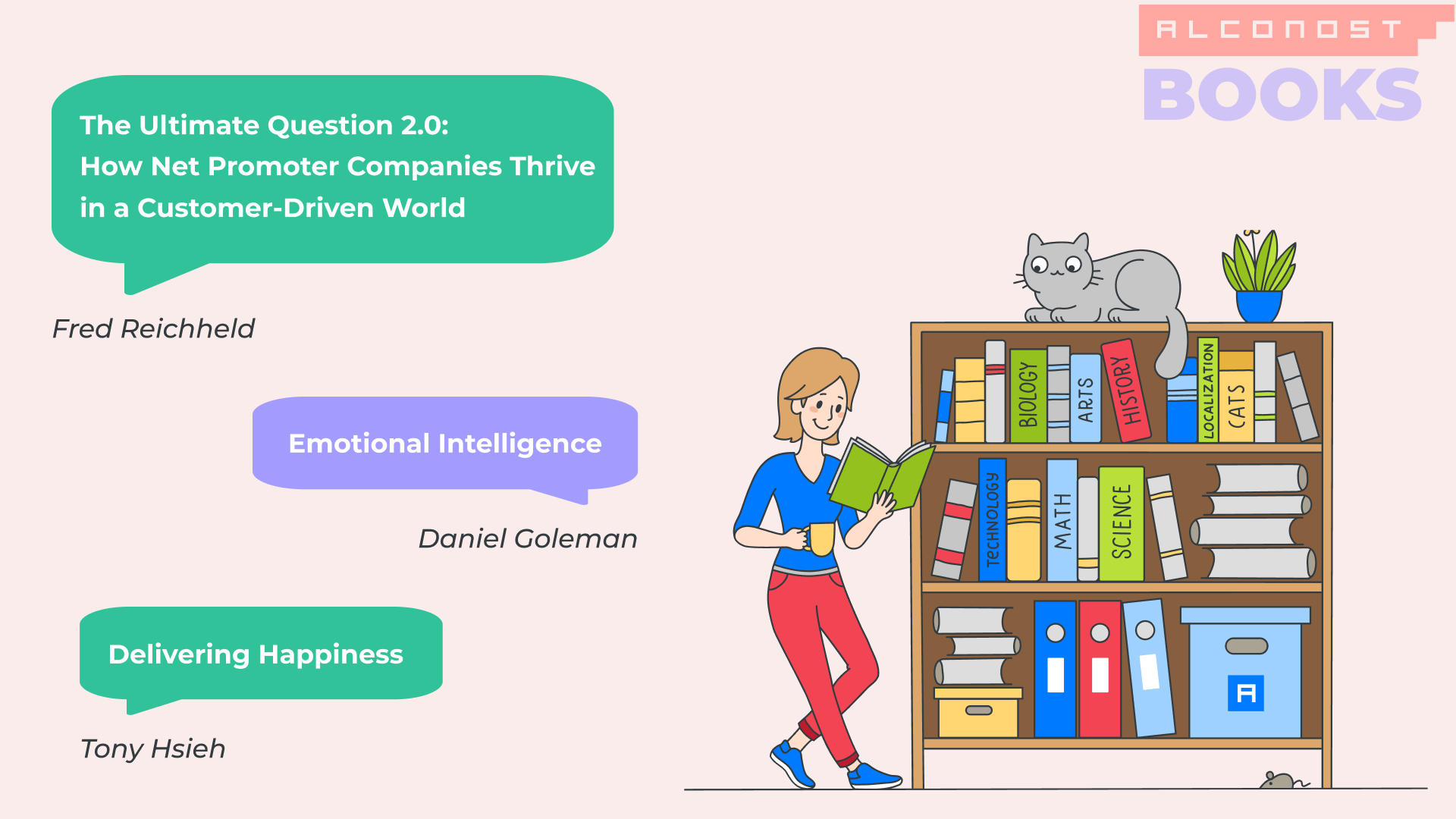 ---
Opportunities to learn with and from each other are crucial too. Regular retrospectives every couple of weeks help our localization department reflect on what worked, what didn't and why. This reflection helps us identify how to improve our teamwork and brainstorm actions that can be taken to respond to problem areas, particularly in customer-facing operations. In our dynamic industry, where every project is in many ways unique, there are limitless opportunities for knowledge exchange among localization managers.
Mentoring is another major piece of the puzzle when it comes to training a team of collaborative, client-oriented localization PMs. In addition to managing the team and setting up workflows, localization leads serve as the glue that binds the localization department together. They're here to create a friendly, encouraging work environment, provide learning opportunities for fellow managers, keep everyone on the same page when it comes to team values and culture, and lend a hand when extraordinary projects arise.
It's important to show how acquiring and applying new knowledge correlates with professional growth in the company. We've found it helpful to link proficiency levels with our promotion system. It's one that reflects the ways in which localization professionals can develop in their roles as they complete key milestones on the learning curve that encourages curiosity and action. It also ensures that employees are evaluated on the basis of their abilities and performance as opposed to tenure or seniority within the company. We believe that a transparent system of professional development has greatly contributed to the high levels of job satisfaction and retention at Alconost, with 99% of employees willing to recommend us as an employer to a friend or ex-colleague in 2022. Given our positive experience, we sincerely recommend transparent promotion systems to other localization vendors.
At the end of the day, the combination of an entrepreneurial organizational culture, shared customer-focused goals, and supportive management nurtures proactive, caring professionals who strive to build sustainable localization partnerships and empower clients on the journey toward global success.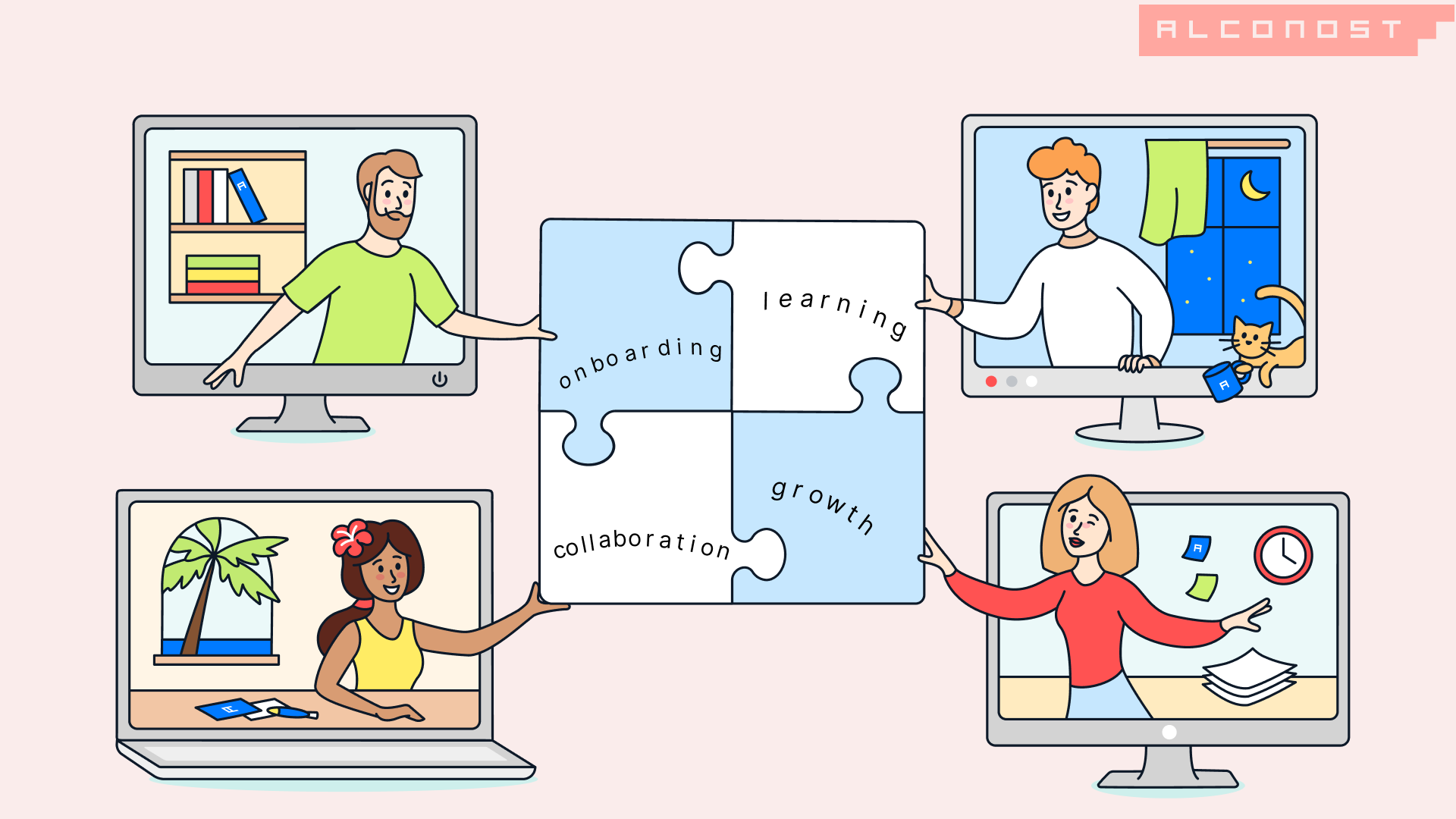 How client feedback can (and should) drive localization processes
By seeing clients as business partners who have impactful voices in the development of localization processes, over the years we've been able to improve upon our internal workflows. For example, at certain checkpoints during a given project we ask clients to fill out a NPS questionnaire. The goal of an NPS isn't so much to see how likely our clients are to recommend Alconost as a localization vendor, nor is it to make sure everything goes just perfectly and pat ourselves on the back. Instead, it gives us the ability to see what may be lacking and determine how we can enhance the workflow so as to deliver the best customer experience for that particular client.
Tip for LSP: NPS forms are your opportunity to truly listen to clients and gain insight into their experiences with your services. Clients might not always mention minor inconveniences if the overall service satisfies them, whereas direct questions will encourage honest feedback. If you're committed to maintaining high-quality processes, even the slightest improvement can make a difference and take your service level from good to great.
Ideally, from this feedback form you should get information on how your client feels about the three core aspects of localization with you: translation quality, translation velocity (turnaround time) and communication with the team.
Tip for LSP clients: We know how busy things can get in the Marketing, Product, Operations and Localization departments, and it's not an easy task to provide detailed feedback. However, if you feel that a certain aspect of the localization workflow with your current vendor prompts you to search for another agency, we strongly recommend using NPS to reflect on your experience. A few minutes of your time can significantly enhance your vendor's ability to improve and provide service that's more appropriate to your specific business needs. Doing so can reduce costs for the next round of recruitment.
Closing remarks
The localization landscape has changed over the past 20 years, and it continues to mature beautifully. Just a decade ago it was common for vendors to offer consultations to their clients in unfamiliar markets, helping them make educated decisions about which languages to target. Today, a more common trend for businesses that seek localization services is to come to vendors with information in hand concerning the markets they want to enter. Nevertheless, they often seek quick, one-stop solutions; integrations that accelerate time to market and ensure quality. Our job as localization agencies is to stay in the loop and respond to these evolving demands by giving businesses the services they need.
Certain core driving forces remain, though. When LSP organizations are guided by ownership, ingenuity and value orientation, the customer-centric project management naturally follows the systems they build, resulting in healthy, lasting partnerships and repeat localization orders. In this continuously changing landscape, we know that craftsmanship, empathy and accountability are the evergreen business pillars that work.
Do you want to contribute with an article, a blog post or a webinar?
We're always on the lookout for informative, useful and well-researched content relative to our industry.