Building a strong foundation: why collaboration is key to the RWS strategy

As I write this, it has been four months since RWS acquired SDL – creating the world's largest language services and software company. As President of the new Language Services and Technology division within the larger RWS Group, I'd like to introduce myself to all of GALA's members and give you an insight into my aspirations for 2021 and beyond.
Many of you use our translation software. Many of you provide us with specialized language services (since both SDL Language Services and RWS Moravia have always outsourced to other LSPs as necessary to meet customer needs). In both cases, we consider you our industry partners and I want to reaffirm our commitment to you all.
But before I do that, let me tell you a bit about me.
Multilingual and proud of it
I am French and British with a Spanish partner, and have lived in six countries to date. An appreciation of different languages and cultures has always been a big part of my life!
I joined SDL in 2016, having spent most of my working life in the software industry after training as an engineer. In 2018 I became SDL's Chief Revenue Officer, responsible for all go-to-market activities for both our services and technology divisions.
Continuity in people
My new RWS Group role is very much a continuation of my role at SDL, and in fact, 'continuity' is a watchword of the acquisition:
• On the technology side, Azad Ootam, the Group's Chief Technology Officer, held the same role at SDL and will continue to lead the research and development of our entire software portfolio.

• Sales Director Vicenta Ten Soriano has been dedicated to the LSP market for more than 15 years, and many of you have told me how important she and her specialist team are in helping you to achieve your goals. They will continue to work with you as closely as they always have.

• On the language services side, we're working to bring the two organizations together without disruption for customers or vendors. It's a priority for us to maintain all of the strong partnerships we have with you, and to continue to work together to deliver a first-class service to our customers.
Continuing commitment to tech for all
One of the rationales for combining our companies was a vision of working together to help solve the industry's biggest challenges. We know that technology is critical to the long-term success of every LSP business, so continuing – indeed, accelerating – the development of our language technologies is at the heart of this vision. And we will continue to serve all of you who use these technologies, with an unwavering commitment built upon each company's rich legacy and the experience of our people.
It's our firm belief that the success of RWS depends on a healthy, growing translation ecosystem. LSPs are at the heart of this ecosystem. You have strengths and expertise that benefit the entire ecosystem. And you're the super users of our technology, the ones who push us to develop ever more intelligent tools to overcome ever more complex challenges. By doing so, we grow the whole translation market together, to the benefit of us all. So you can expect us to continue collaborating with you to grow and succeed together.
Continuing innovation
From our own research and experience in the industry, we know that you're facing increasing pressure from clients as they need to translate a wider range of content, for different channels, using new file types, in more languages. And they want it done faster and cheaper – without any compromise in the quality they've come to expect from you.
Our mission is to continue to develop the translation technology that gives you the flexibility and agility to meet these demands. Our latest research, for example, showed that 65% of LSPs would prefer to invest in a hybrid model that combines cloud-based and on-premises working, because it offers greater flexibility. We've responded to this with new cloud-based offerings such as Trados Live Team. But more importantly, the platform for all of our cloud offerings integrates beautifully with Studio to give you the best of both the desktop and cloud worlds. This smooth hybrid translation experience offers every stakeholder in the process – clients, LSPs and freelancers – the right mix of online/offline capabilities to get the job done.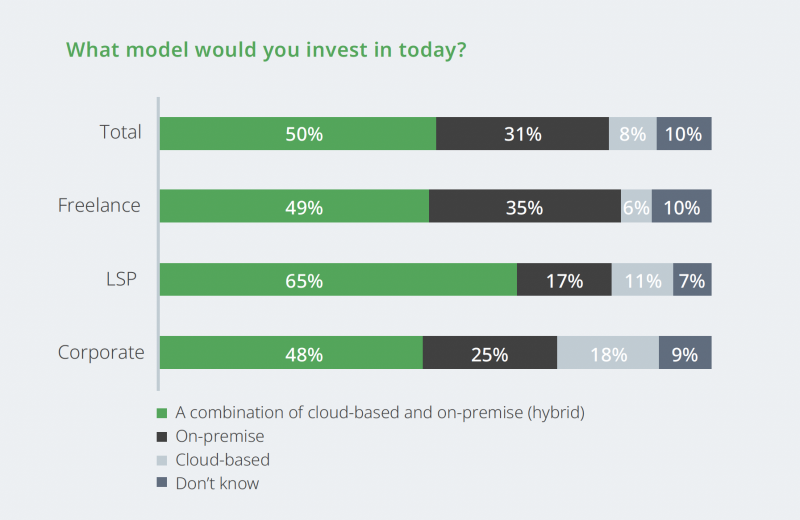 Our research and experience also consistently tell us that your other significant focus is machine translation (MT). You've long been ahead of the curve in recognizing its potential, appreciating its rapid advances in quality, and being early adopters. Our most recent research not only confirmed this but showed that MT is at the top of the agenda for continuing LSP investment.
As neural MT continues to develop in leaps and bounds, we're committed to making it an increasingly valuable tool for you. Besides continual improvement of the AI models, our recent focus has been on:

• Giving you the freedom to train the models with your own content, without our intervention, making the MT adaptive to your needs in real time

• Other types of linguistic AI, such as an on-demand summarizing capability that allows insights to be extracted from huge volumes of content (source or translated) without someone having to pore through it manually

• Deployment flexibility: on-premises, cloud-based, and hybrid (cloud-edge)
Looking forward with confidence
As 2021 continues, with all of its uncertainties, I hope I've given you confidence that – now as part of a larger, even more financially stable RWS Group – we will continue to respond to what you're telling us you need. In a digital-first world it's more important than ever for businesses to reach a diverse global audience, and localization is central to that effort. The opportunities for all of us are immense; let's make the most of them together.
And if you're interested in exploring industry trends and learning more about how we're addressing them, why not join us at our Trados Virtual Conference Series, which has its spring session in May.
Registration is now open, and there will be opportunities for you to ask questions if you have any.