Connecting AI to Localization Solutions
There is an ever-growing divide between cutting-edge technology and customers. Many are still trying to catch up with the digital revolution. Figuring out which technology to invest in is itself a vexing problem, especially in the localization industry. AI and machine learning (ML) are exacerbating this phenomenon. In this talk, Chris Wendt, Group Program Manager for Machine Translation at Microsoft and David Čaněk, Memsource CEO, will explain how this gap is affecting product offerings. They will discuss practical ways to bridge the gap, with the aim of helping customers better position where AI/ML belongs in their operations.
Host organization: Memsource
Event Speakers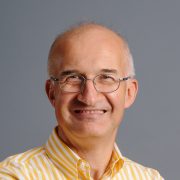 Chris Wendt
Microsoft Corporation
Chris Wendt graduated as Diplom-Informatiker from the University of Hamburg, Germany, and subsequently spent a decade on software internationalization for a multitude of Microsoft products, including Windows, Internet Explorer, MSN and Windows Live – bringing these products to market with equal functionality worldwide. Since 2005 he is leading the program management team for Microsoft's Machine Translation development, responsible for Microsoft Translator services, including Bing Translator and Skype Translator, connecting Microsoft's research activities with its practical use in services and applications. He is based at Microsoft headquarters in Redmond, Washington.

David Čaněk
Memsource
David Čanek is the founder and CEO of Memsource, a software company providing cloud translation technology based in Prague, Czech Republic. David, a graduate in Translation and Comparative Studies, received his education at Charles University, Prague, Humboldt University in Berlin, and the University of Vienna. His professional experience includes product management and business development roles in software and translation industries. David has delivered a number of presentations on innovation and trends in the translation industry, including the growing use of machine translation post-editing and cloud translation software.